No. 2 | Volunteering
10 March 2021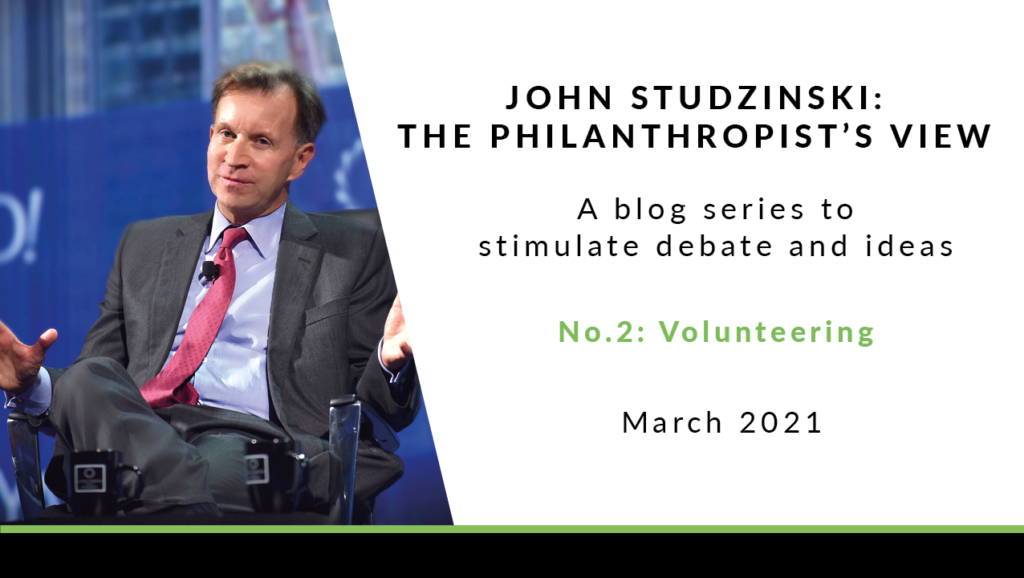 Volunteering is not something to be done casually: its implications for society are far too great for that. This became clear from a raft of thoughtful feedback I received from a co-ed secondary school in Bucks whose sixth-formers I had spoken to about what it means to volunteer.
Nearly all of them had come away thinking that volunteering was important. At least three-quarters of them hoped to volunteer after leaving school. So far, so predictable, perhaps. In 2018-19, nearly 20 million people in the UK volunteered through an organisation and more than half the population volunteered on an informal basis. Covid has catalysed a new wave of volunteering; indeed the worst of times have brought out the best in human spirit. We all know that helping people of your own free will is a good thing to do. But what more does volunteering hold for a teenager – or, indeed, for any of us?
Those sixth-formers I met – bright young people with their whole future before them – quickly understood that in helping other people you help yourself. By changing someone else's life for the better, you enhance your own life and strengthen your foundations. You gain or develop important life skills: logistical skills like time management and practical problem-solving, but also skills that nurture your intellect and your emotional intelligence, such as listening, understanding, collaboration and building other people's self-esteem. You can even acquire old-fashioned virtues like patience.
As in so many aspects of life, volunteering is also about quality. Giving of your best for a few hours, putting your emotions and skills intensely to work, holds more value than simply 'serving time' or over-stretching yourself.
As a volunteer, you naturally want to achieve something on the spot, but you also hold huge potential to build momentum, in yourself and in other people. Volunteering with both energy and focus can produce a powerful multiplier effect. It is already important in our society, but by working together in a tighter structure we can make it a recognised force in our society.
Those enthusiastic young students proved to me that volunteering programmes should be integrated into the National Curriculum. Before long, they will be working adults and bringing up children of their own. They already live in a country that has a strong culture of giving – but are they fully equipped to further the cause of a new culture of volunteering?
Read other posts in the John Studzinski: The Philanthropist's View series