Genesis Foundation Prize
The Genesis Foundation Prize, formerly the Genesis Prize, recognises an outstanding mentor of young artistic talent whose work has effected real change in the practice and careers of arts professionals or graduates.
Now in its tenth year, the £25,000 Genesis Foundation Prize is the only prize to recognise outstanding mentoring of artistic talent and, through its prize funding, to give winners the means to invest further in their work.
The bi-annual Genesis Foundation Prize is awarded to an artist showing an extraordinary talent for mentoring. The winner is chosen by the Trustees of the Genesis Foundation on the recommendation of industry experts.
---
2022 Genesis Foundation Prize winner
George Turvey, Co-Founder and Artistic Director of Papatango Theatre Company
Through the Papatango Theatre Company, George Turvey will use his £25,000 prize to pilot a new scheme called the Playwright-Player Commission. Offering an innovative model for championing rising talent, it will create a pipeline of ambitious new work for major stages. The inaugural Playwright-Player Commission, to be hosted at Bristol Old Vic, will connect a hugely promising early-stage playwright, Samuel Bailey – winner of The Times Breakthrough Award at the Sky Arts South Bank Awards for his play Shook – with Olivier Award-winning director Sally Cookson, and a yet-to-be-confirmed actor. They will collaborate on a brief to create an ambitious, large-scale new play for Bristol Old Vic's celebrated main stage.
In addition to this scheme, George announced in Autumn 2023 that he is using part of his Genesis prize money to commission a short film to celebrate 15 years of the Papatango New Writing Prize. Actor and writer Josh Barrow, whose script narrowly missed the New Writing Prize shortlist, has been awarded £2,500 by Papatango to create a 10-minute film in partnership with producer Phil Temple at Birdie Pictures, for release in 2024.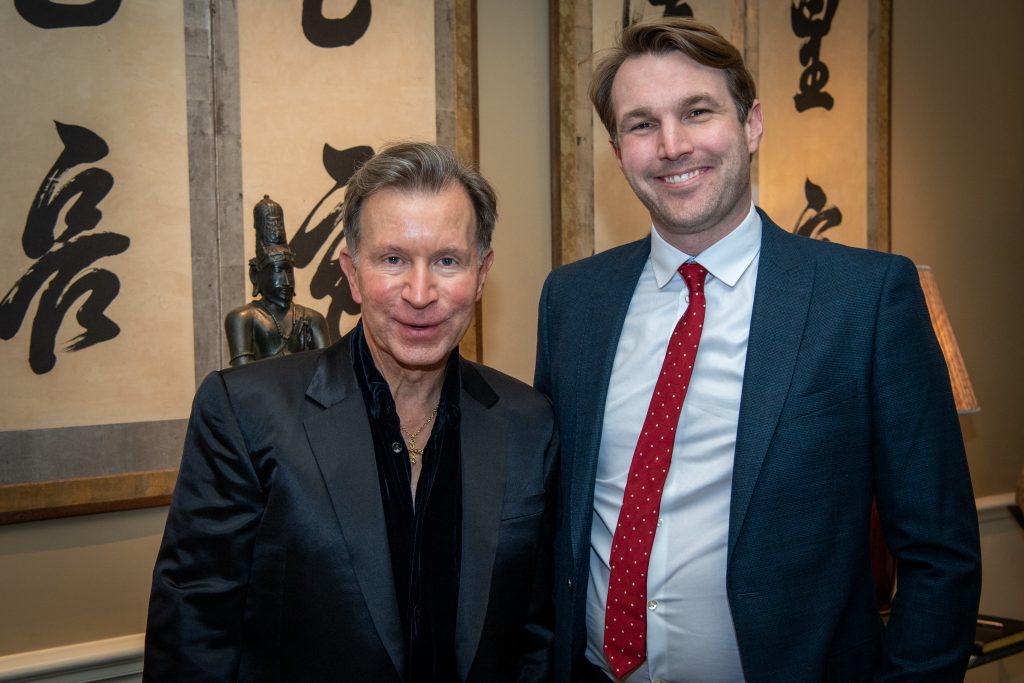 Described by the Evening Standard as a "remarkable unearther of new talent", George, along with colleague Chris Foxon, established the Papatango New Writing Prize in 2009. It has provided a launchpad for an impressive roster of artists who would not otherwise have found a pathway into theatre, attracting more annual entries than any other playwriting award in the UK and discovering future winners of BAFTAs, Royal National Theatre Foundation, Critics' Circle, Alfred Fagon and OffWestEnd awards.
Recently named by The Stage as one of the 25 theatremakers to watch out for in 2022, George made a striking impact with his resilient and ambitious response to the Covid-19 crisis: within 12 hours of lockdown theatre closures in March 2020, he had launched Isolated But Open: Voices From Across The Shutdown. A programme designed to generate paid work and foster creativity, it inspired 2,004 plays and Papatango went on to produce/publish 12 of them in free recordings/playtexts. These have so far been watched free of charge by over 14,000 people and were recently enshrined in the British Library as a major cultural achievement.
Commenting on his award, George Turvey said:
"I am truly incredibly honoured to receive the 2022 Genesis Foundation Prize in recognition of my work mentoring playwrights. For 14 years, we at Papatango have had the privilege of supporting and launching some immensely talented writers and, through the Playwright-Player Commission, this Prize will allow us to push further than ever in our quest to get the brightest new talent onto the UK's biggest stages. 
"In the spirit of the Prize, I would like to dedicate this award to a former mentor of my own, screenwriter Bob Baker, who sadly passed away recently but whose legacy lives on in my work."
John Studzinski, Founder & Chairman of the Genesis Foundation, said:
"George provides an object lesson in nurturing talent in a dynamic and sometimes volatile environment. Since 2009 he has been opening up career-changing opportunities for a diversity of writers, and his response to the pandemic has been nothing less than exemplary in its agility and resourcefulness. In a changed world, arts leaders of all kinds can learn from his approach and his achievements for the creative community and for audiences."
Listen to George Turvey and Samuel Bailey discuss the inaugural Playwright-Player Commission on our podcast
---
2020 Genesis Prize winner
Rebecca Salter, President of the Royal Academy of Arts.
Ms Salter was selected for the 2020 Genesis Prize for her work as Keeper of the Royal Academy where she was responsible for guiding the RA Schools. Reflecting the crucial role of mentoring in the development of new artistic talent, which is at the core of the Genesis Foundation's ethos, she will use the prize money to develop a new programme that will provide graduates of the RA School with the professional skills and resilience training needed to survive as practising artists in the commercial world.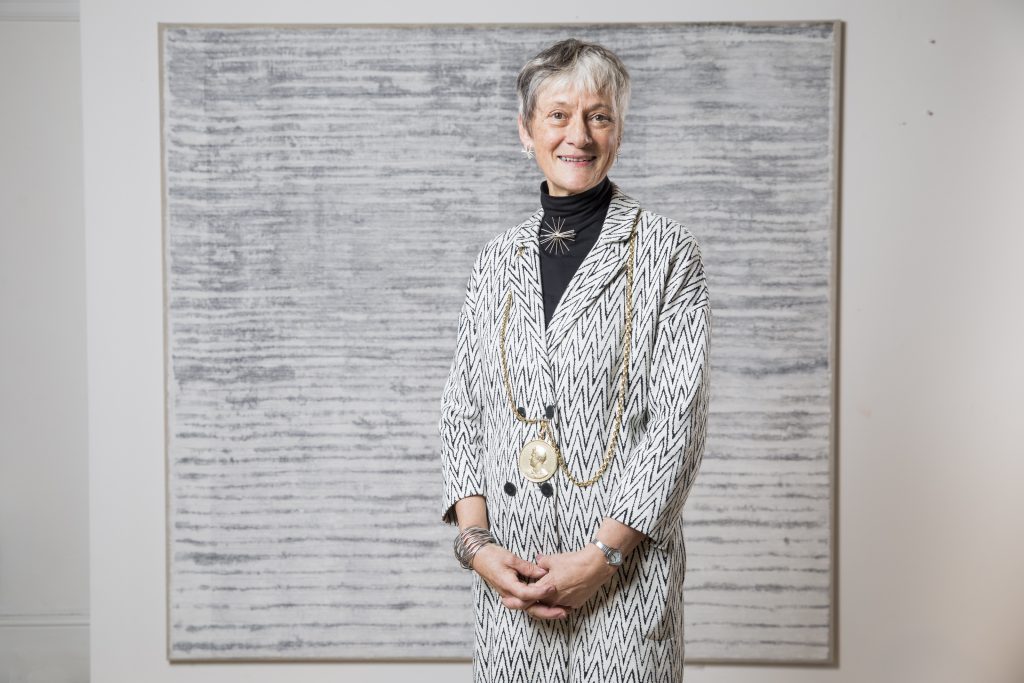 John Studzinski, Founder & Chairman of the Genesis Foundation, said:
"I am delighted that the 2020 Genesis Award goes to Rebecca Salter for her work as Keeper of the Royal Academy. Everyone at the Genesis Foundation has been impressed by Rebecca's passion and commitment to nurturing young artistic talent. Her ability to recognise the changing needs of young artists and to develop practical programmes to support them makes her a worthy winner of the Genesis Award. We warmly welcome her into the Genesis Foundation's family of artistic leaders."
Rebecca Salter said:
"I am delighted to receive the 2020 Genesis Prize in recognition of my work with the students at the Royal Academy Schools. One of the founding principles of the Royal Academy was to have a school of art. Over the last 250 years it has trained artists from JMW Turner RA to Lynette Yiadom-Boakye, many of whom go on to contribute to the artistic and cultural life of the UK and beyond. This prize will enable the RA Schools to develop a new programme teaching resilience and to offer post-graduation support."
You can listen to the Genesis Podcast featuring Rebecca Salter in conversation with psychotherapist and lecturer Barry Smale here and on all major platforms, including Apple Music, Spotify and Soundcloud.
---
Past Winners
Joe Murphy and Joe Robertson
The 2018 Genesis Prize was awarded to Joe Murphy and Joe Robertson, directors of Good Chance Theatre. Few young playwrights have made such an impact as Murphy and Robertson whose play The Jungle, supported and directed by Stephen Daldry and Justin Martin and produced by David Lan for the Young Vic and the National Theatre at the Young Vic, originated in a specially built temporary theatre in the Calais refugee camp. The Jungle was a transformative experience for everyone involved as it gave residents of the camp, so often depicted as third class citizens, a chance to tell their story and to be involved in the creation of something positive. When the play came to the Young Vic, it earned them a host of five-star reviews with leading figures of the theatre world lining up to work with them.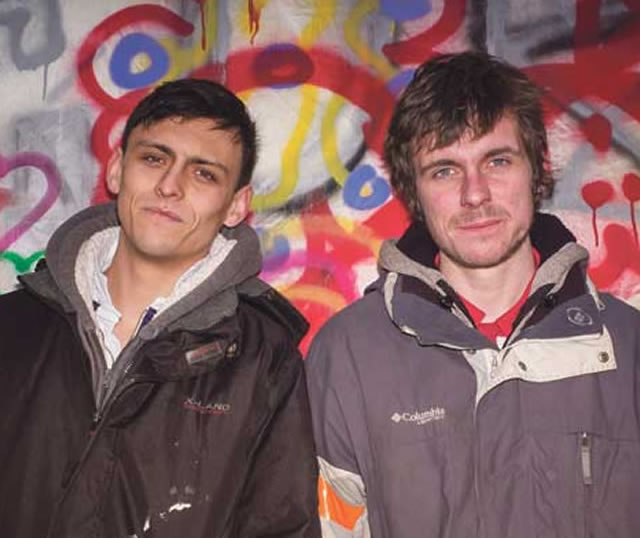 The Jungle enjoyed a successful West End transfer and performances in the United States where it was received with the universal acclaim the Young Vic performances achieved. The Financial Times described it as "an important and deeply moving piece of theatre" and the Guardian: "This devastating, uplifting show is beady-eyed even as it celebrates the human capacity to build something out of nothing, to work together and try to make a difference. Good Chance…is doing just that. Let's listen and learn."
The Genesis Prize allows Murphy and Robertson to focus on their playwrighting and developing new projects which currently involve work in the UK and at the main centre for refugees and migrants in Paris.
John Studzinski, Founder & Chairman of the Genesis Foundation, said:
"What Joe and Joe have achieved in Calais, then in London and now in Paris is inspirational. Wherever they've been, they have created a beacon of hope in a zone of crisis and misery. They've built structures enabling refugees to tell their stories, express their creativity and build a community. Their mentoring and transformative work with these refugees make them the ideal recipients of the Genesis Prize. Such work nurturing artistic talent is at the core of the Genesis Foundation's activities and our trustees were unanimous in awarding the Prize to Joe and Joe. We look forward to watching them use the Prize to develop further spaces for people without access to artistic expression and pass on their message of hope, humanity and empathy."
Joe Murphy and Joe Robertson said:
"We are honoured to receive the 2018 Genesis Prize. It will help us to continue our work as playwrights, to develop further projects with refugees in theatres of hope and welcome in cities across the country. Such work will allow us to continue learning how theatre and art can create new dialogues between different refugee and local communities."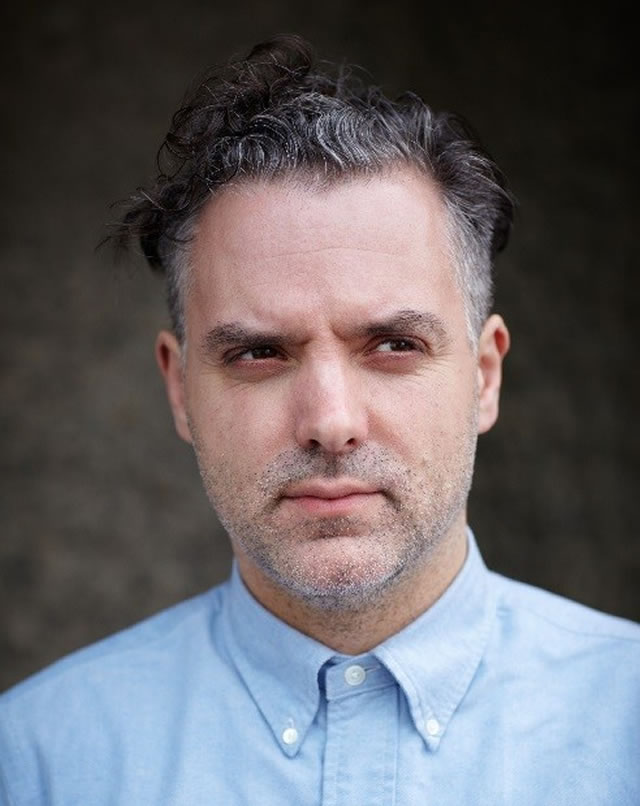 Hadrian Garrard
The 2016 Genesis Prize was awarded to Hadrian Garrard for his outstanding work as Director of Create London, the award-winning organisation that roots artists in their communities, drawing a sustainable model for artistic creation and funding within local groups. Reflecting the crucial role mentoring plays in developing artistic talent, which is at the core of both Create London and the Genesis Foundation's ethos, Garrard chose to invest the prize money in a Young Curator Award programme.
Garrard's ongoing work effects real change in London communities by getting art and artists out of gallery spaces and into the heart of the neighbourhoods. In 2014/15 Create placed over 130 young people into jobs in the creative sector, worked with children in more than 25 schools, and has consistently made significant and valuable contributions to urban renewal in the east end of London. Projects include building a cinema under a motorway, a new soft play centre, over 100 artist commissions, Open School East – a project that supports 13 postgraduate art students by providing free tuition and studio space in exchange for developing public programmes for communities on the De Beauvoir Estate in Hackney, a workshop and community resource for wood- and metal-working, and the Create Jobs initiative, which provides mentoring, support, and paid employment opportunities for local young people.
Hadrian Garrard said:
"The Genesis Prize is unique in that it provides recognition to those of us involved in mentoring young artists and arts professionals. One of the most rewarding things in my work is supporting young talented people and to have this recognised in this way means an awful lot to me. We work with hundreds of young people each year in many different ways and I am proud to have supported the careers of some very talented artists and curators over the past 10 years. Last year we were particularly proud to see Assemble win the Turner Prize. We gave Assemble their first commission in 2011 and have supported their work through several other major commissions and it was wonderful to see their rapid development reflected in such a significant way. I shall be using the funding from the Prize to support a Young Curator over the course of this year. We will be appointing Sophie Chapman to work with us and to receive mentoring and practical experience over the next year."
Harriet Capaldi, Managing Director of Genesis Foundation said:
"We are delighted to offer the Genesis Prize to Hadrian for his inspirational work in cultivating and mentoring local, artistic life. With Create London, Hadrian has launched a business which holds social practice and nurturing artistic talent at its core. Mentoring and artistic development are fundamental to what we do at the Genesis Foundation, so we're thrilled that Hadrian has chosen to fund a new programme to support young curators with this prize."
---
Polly Staple
The 2014 Genesis Prize was awarded to Polly Staple, director of London's Chisenhale Gallery for her outstanding work as a mentor of young artistic talent.
Polly was one of six shortlisted candidates from the worlds of visual arts, theatre, architecture and opera. She was awarded the prize by a distinguished panel of judges comprising David Bailey (photographer), Hamish Dunbar (Café Oto) – winner of the 2012 Genesis Prize, Hadrian Garrard (Create), David Lan (Young Vic), Julia Peyton-Jones (Serpentine Gallery), Dame Janet Suzman (actress and director) and John Studzinski (Genesis Foundation).
The judges praised Polly for "creating a programme that presents new artists on an international stage at the highest possible level. Polly runs one of the most important arts organisations in the country whose track record of launching young artists is outstanding. She has made a real impact on the artistic life of the country and in particular the East End, where the Chisenhale Gallery is based."
Polly Staple said:
"Winning the Genesis Prize is fantastic recognition for the work done by all of us at the Chisenhale Gallery. This award will have a real impact on the Chisenhale by enabling us to expand the scope and quality of our work. We'll use the prize money to commission four emerging UK-based artists, allowing us to work with them in developing their ideas from conception through to the public showing of the finished work."
John Studzinski, Founder and Chairman of the Genesis Foundation said:
"Polly has created an arts business in the East End that has gathered international attention for the artists she presents. Mentoring is central to everything Polly does at the Chisenhale, and she has built a structure that gives young artists experience to complement what is offered by formal art education. Polly is nothing short of inspirational. I am happy that she has become part of the Genesis Foundation's network of experts and mentors and delighted that the Foundation is supporting her in cultivating artistic life in the East End."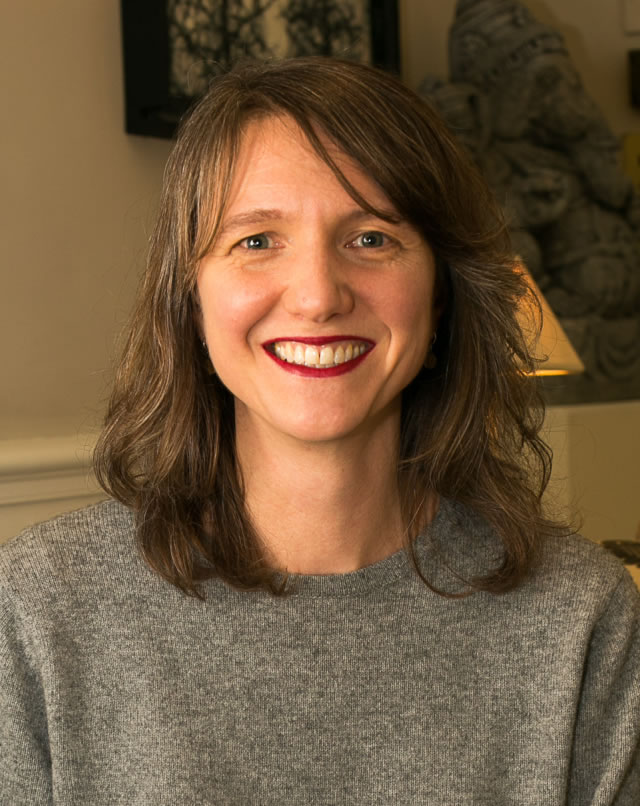 ---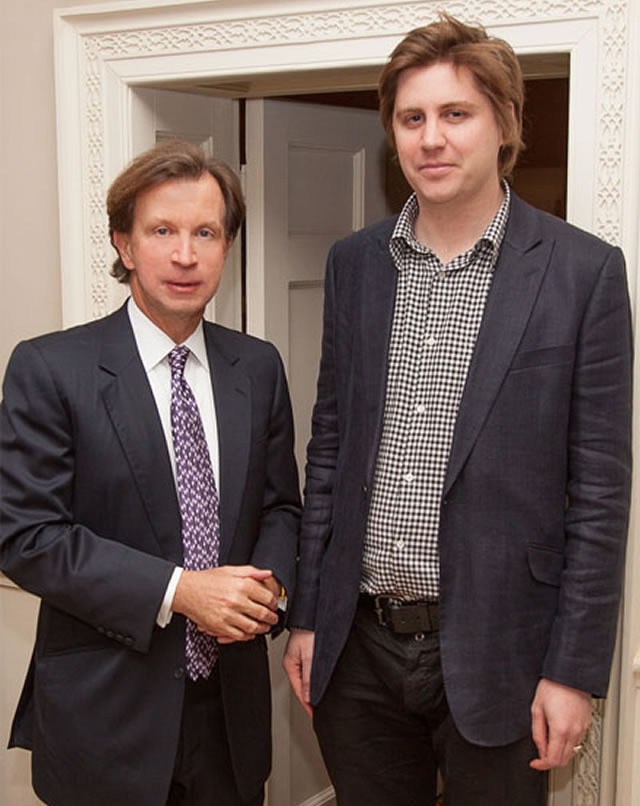 Hamish Dunbar
The inaugural Genesis Prize was awarded in 2012 to Hamish Dunbar, Artistic Director of Café Oto, so that he could establish an Associate Artists Programme and build a new temporary project space in which artists could create and develop their work.
The award has enabled Hamish to further the activities of Café Oto and its support of musicians. The Associate Artists Programme has seen Hamish work closely with five of the UK's most exciting emerging musicians, providing a platform for them to present new work, develop ideas and initiate collaborations.
(Find out more about the Associate Artists and their projects here.)
Additionally, Café Oto built a new temporary space in which musicians can meet, rehearse and perform. The distinctive structure, situated on a piece of disused land just opposite the main venue in East London, has a capacity of 60 and houses activities that were simply not viable Café Oto itself, such as sound installations and rehearsals.
Known as the Project Space, the new venue has quickly become an essential meeting point for a community of musicians. Café Oto has made the space freely available to its Associate Artists to use as much as they need, and to a number of other musicians.
Hamish Dunbar said:
"It was always our aim for Café Oto to be more than just a venue. We wanted to create a home for a community of musicians to meet, collaborate, talk, listen and play in. In doing so we hoped to sustain an important culture and discourse around the music. The Associate Artists Programme is an extension of that aspiration. I am really pleased to be supporting five very different players who are all, in their different ways, making new and important music."
John Studzinski, Founder and Chairman of the Genesis Foundation said:
"The judging panel were impressed by all six finalists, but Hamish showed entrepreneurial courage in founding Café Oto and in a remarkably short time has designed an innovative space that has created a new audience for avant-garde music. His proven ability to bring different artists together, and the role he plays in forming creative relationships made him stand out from the other finalists. Transforming a disused warehouse into such a vibrant venue shows a degree of fearlessness that will stand him in good stead and make him a great mentor to musicians for many years to come. All the judges said that Café Oto was the venue that they wish to visit!"
---