2001 – 2021: 20 years of the Genesis Foundation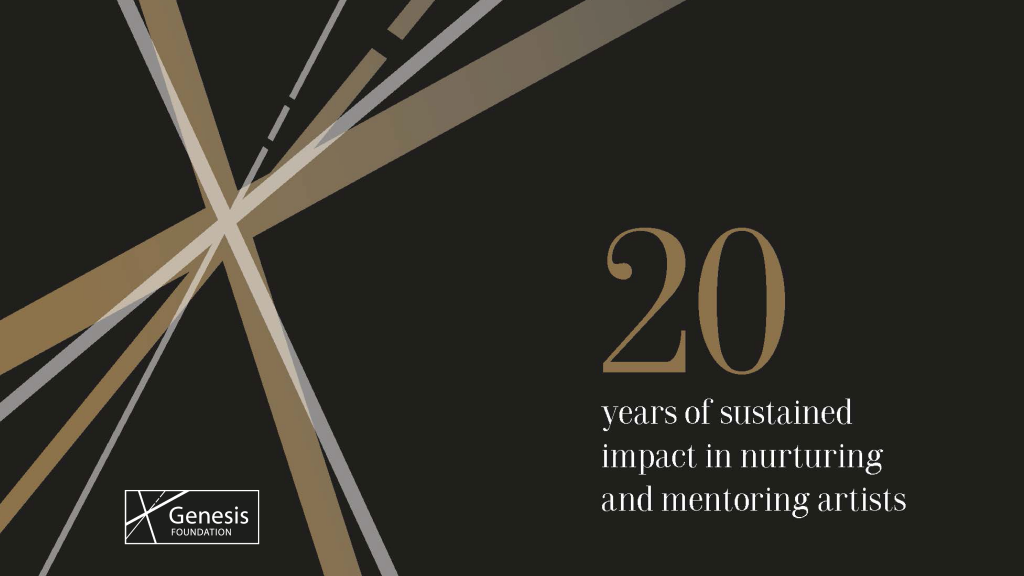 Foreword
The world has changed radically in the 20 years since we established the Genesis Foundation. Who, for instance, had heard of social media back in 2001, when the internet was still something of a novelty?

Over the course of two decades, the Foundation has, of course, evolved. It has kept pace with change, sometimes even anticipating it, but it has always remained true to its mission and principles.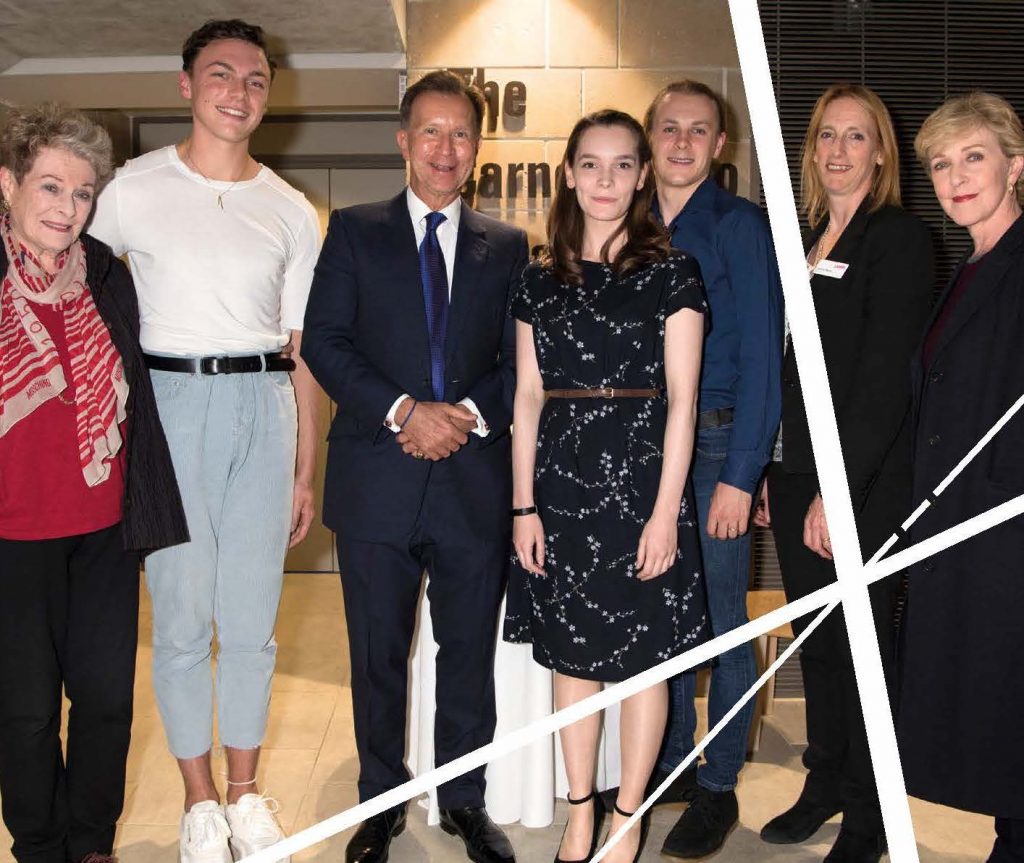 In 2021, as in 2001, the Foundation's focus is on exceptional artists, and especially young artists. Our aim, in simple terms, is to open up professional opportunities for them. Through the Genesis Foundation, they gain access to resources that enable them to develop their creative endeavours and their capacities for enhancing our lives — and society as a whole. Those resources might take the form of training, a commission or even basic living expenses, but they can equally be embodied in advisors, mentors and colleagues. First and foremost, the Genesis Foundation is about carefully structured investment in people and partnerships, and the past 20 years have demonstrated the value of making that investment for the long term.

In recent years — and especially in a world now changed by Covid-19 — two words that have gained extra currency are agility and resilience. To build and sustain a career, through both good times and bad, artists need to keep learning, to adapt as necessary and to keep faith in themselves. This might be easier said than done, but with the grounding supplied by the Genesis Foundation they can draw on the support of professional and personal networks and continue to make best use of their talent and skills.
Life under the pandemic in 2020 and 2021 has provided dramatic evidence of just how indispensable digital technology has become. We now function in both a physical and a virtual world, and this is as true for the arts as for other sectors. It is already manifest in some of the projects enabled by the Genesis Kickstart Fund, launched in late 2020. It will also play a part in shaping the Foundation's thinking over the coming years, but our emphasis will always remain firmly on talented artists, their creative potential, their role in society, their professional value, and, above all, their human dignity.
John Studzinski CBE
Founder and Chairman, Genesis Foundation
£1 million Genesis Kickstart Fund
In October 2020, the Genesis Foundation launched the £1 million Genesis Kickstart Fund. In a world radically altered by Covid-19, the aim of the fund is to enable outstanding freelance artists to stay on their career paths and to explore new possibilities. Ultimately, it is helping to assure the future vigour and excellence of the arts in the UK.
The Fund is encouraging exciting, well structured, future-facing arts projects and engendering vital paid work for creative professionals. As John Studzinski CBE, Founder and Chairman of the Genesis Foundation, has said: "The pandemic has jeopardised the careers of both young and established professionals in the arts. Freelancers — a vital, entrepreneurial force — have been especially adversely affected. We cannot afford to risk losing a whole generation of outstanding creative talent through the destructive impact of Covid-19."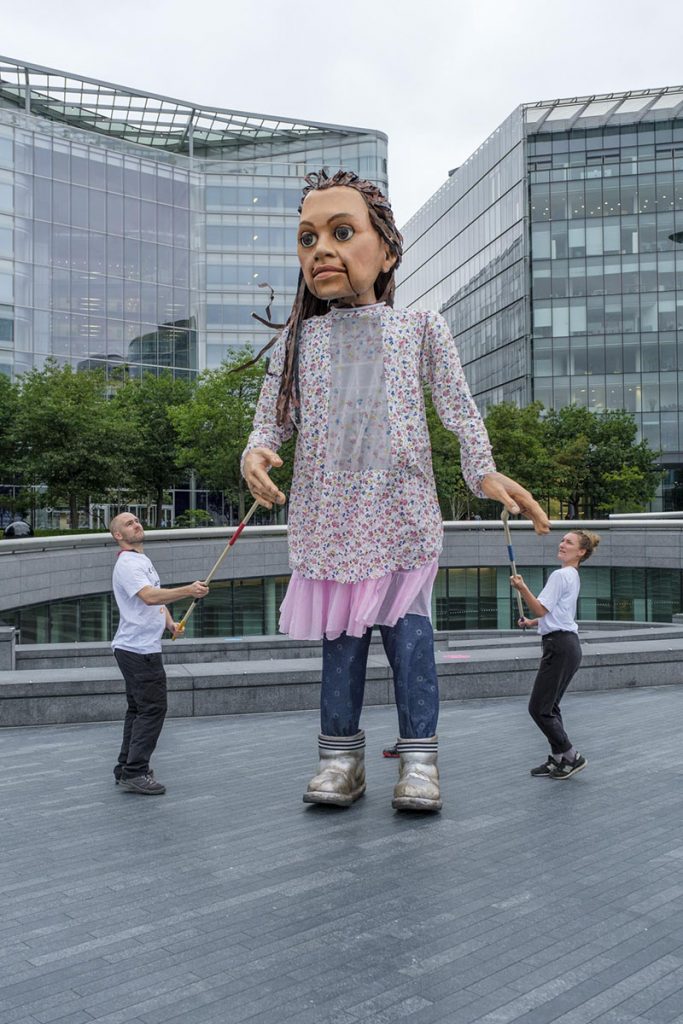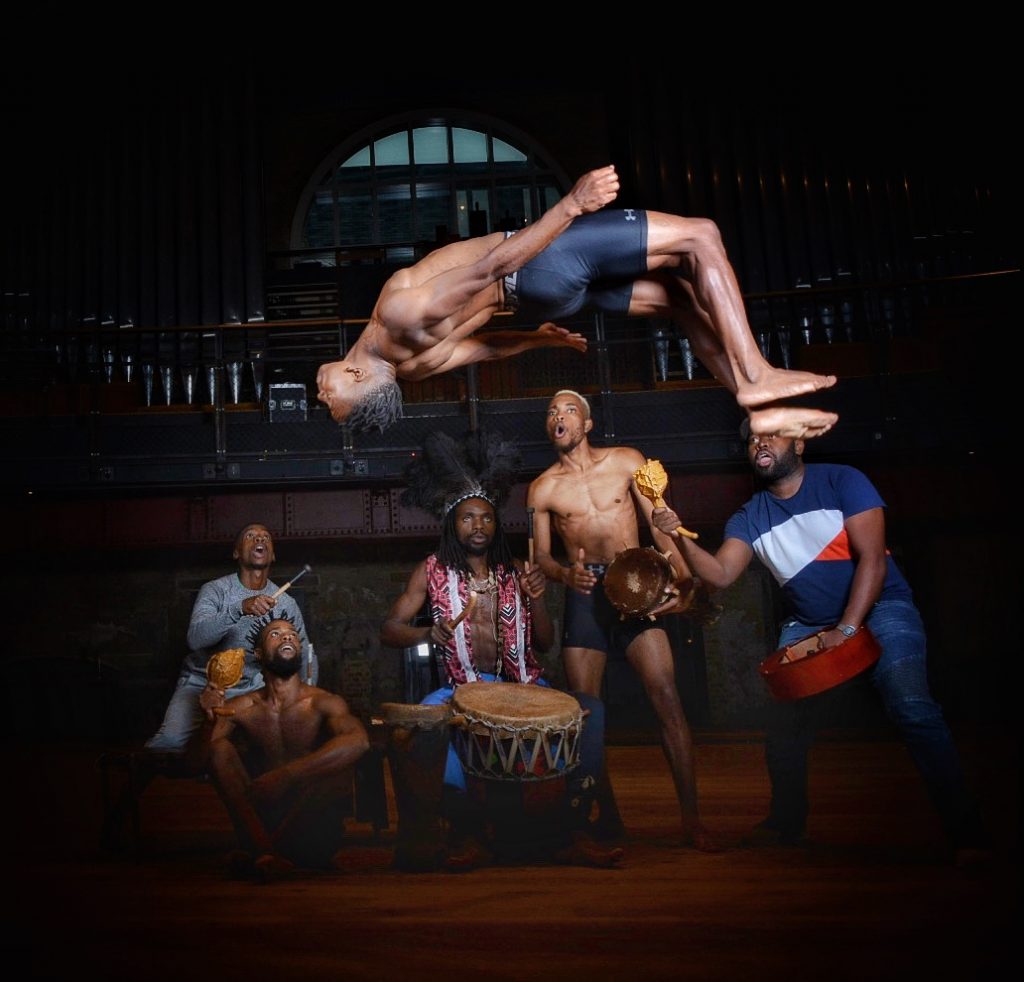 –
"This is a truly humbling recognition and validation of our idea and art form! It's one step further into allowing us to joyfully share the Zimbabwean culture of mbira, marimba, and performance, IN OUR OWN VOICE. It is literally a kickstart into the vast possibilities of creating, sharing, and collaborating … We are very happy, grateful, and thrilled to receive this award!"

John Pfumojena
Composer
"This is a truly humbling recognition and validation of our idea and art form! It's one step further into allowing us to joyfully share
The Genesis Kickstart Fund is steered by an Advisory Council of over 30 distinguished artistic leaders from a variety of disciplines. Among there are Barbara Broccoli, Benedict Cumberbatch, Grayson Perry and Kwame Kwei-Armah.

As of Autumn 2021, 60 projects — spanning theatre, spoken word, music, opera, dance, visual arts and digital arts, and covering England, Scotland, Wales and Northern Ireland — have been awarded grants of at least £10,000. Further grants will be made by the end of the year.
The first 41 projects were announced in May 2021. They involve some 500 freelance professionals and 90% of them target new audiences for their art form or genre.

"We are delighted that the projects are so diverse in art form, region and ethnicity," says John Studzinski. "After 20 years of the Genesis Foundation, our original nurturing and mentoring framework is now more relevant than ever before. The Kickstart Fund is sustaining and developing the Foundation's long-term strategy of affirming human dignity through the arts, one person at a time."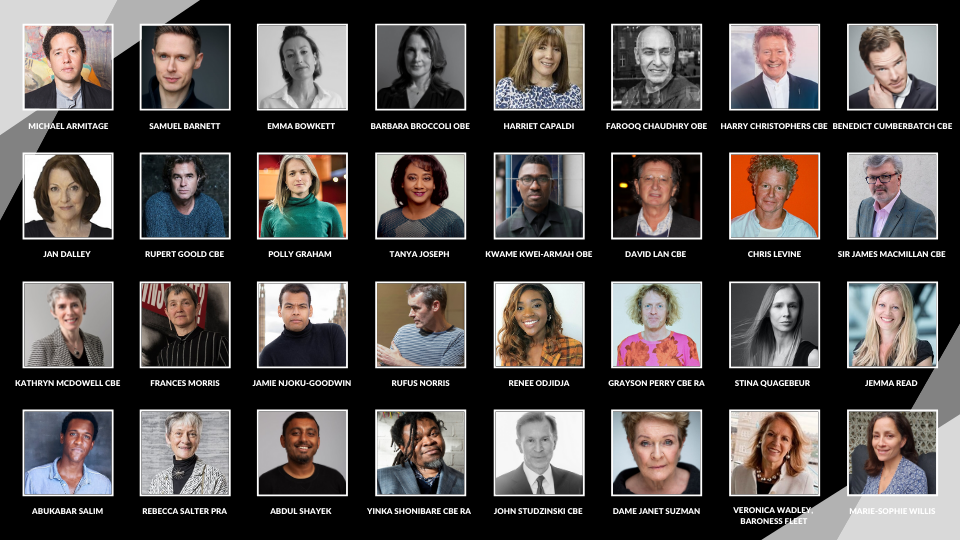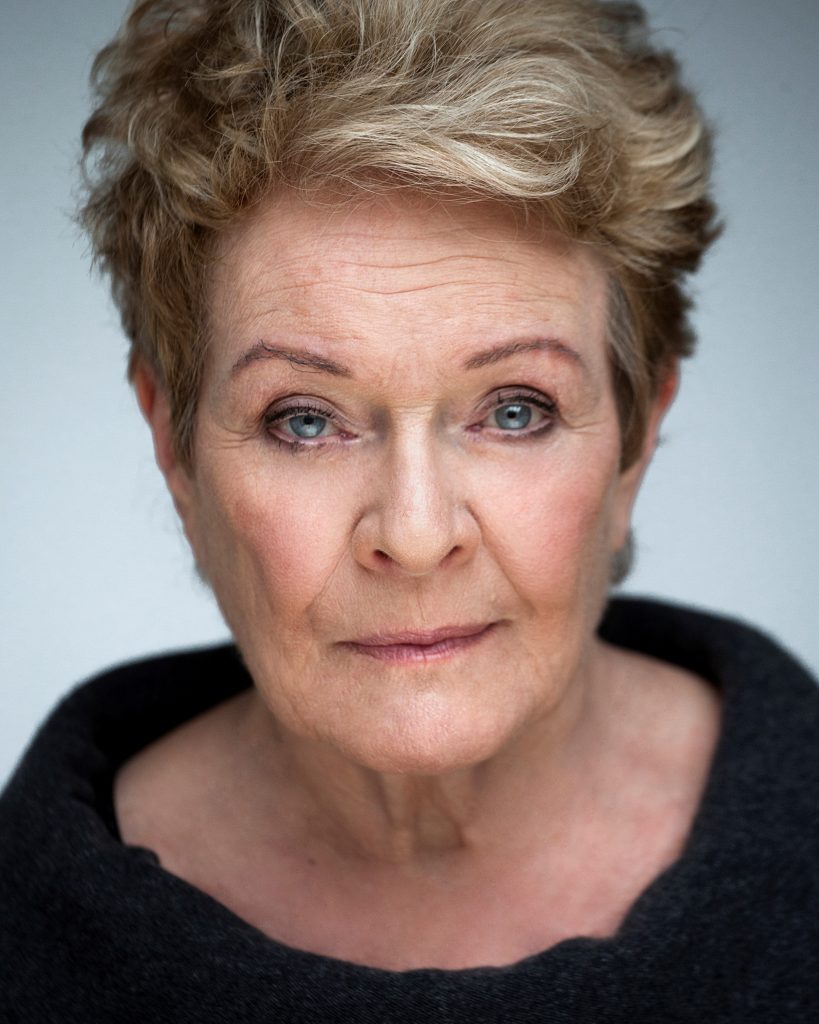 "John Studzinski's instinct for Genesis to initiate encouragement and artistic pragmatism is exhilarating. Attention must be paid to the creative streak in a person, especially the young and untried, otherwise it surely deflates and dies."
Dame Janet Suzman DBE
Actor and LAMDA Vice-President
John Studzinski on the Genesis Kickstart Fund
---
LAMDA
For over 20 years, John Studzinski and the Genesis Foundation have supported LAMDA (The London Academy of Music & Dramatic Art). Vocational training at LAMDA gives actors, stage managers, technicians, directors and designers the expertise and resources to meet the highest demands of the worlds of theatre, film, radio and TV.
The Foundation's relationship with the academy began with a scholarship scheme that originated in the late 1990s. It became the Genesis LAMDA scholarship, supporting the academic journey of exceptionally talented students by paying their entire tuition fees over the three-year BA (Hons) course in Professional Acting and also by contributing towards their living expenses.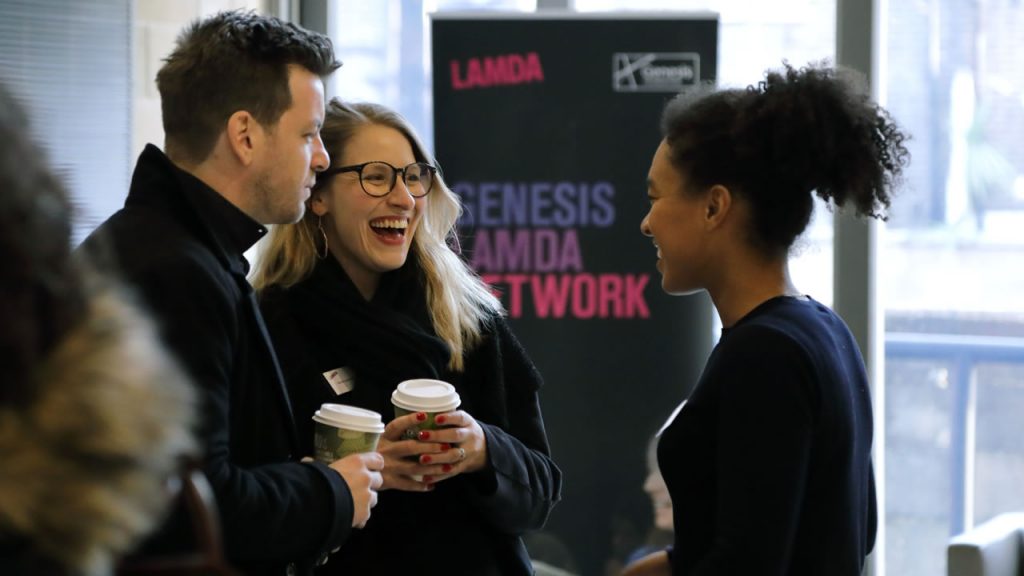 Over a period of 21 years — extending from the first scholars (Gary Shelford and Samuel Barnett, both 1998–2001) to the last (Stuart Thompson, 2016–19) — the scholarship enabled highly talented students to thrive as they developed the requisite skills and resilience for a substantial career.
Among former LAMDA Genesis scholars are:
Samuel Barnett (1998-2001), who is a two-time Tony nominee for Broadway productions The History Boys and Twelfth Night, as well as being an Olivier award nominee for his History Boys role, and starring in Netflix series Dirk Gently's Holistic Detective Agency.
Amy Stacy (2002–05), who is currently developing two comedy drama series, Love Therapy and Progress. In 2018 her writing brought her the prize for Best Film in the BBC's It's My Shout Awards.
Tom Riley (2003-05), who won Best Actor in the 2014 BAFTA Cymru's for his role of Leonardo Da Vinci in tv series Da Vinci's Demons.
Ben Aldridge (2005-08) who currently stars in ITV's The Long Call.
Abubakar Salim (2012–14), who has established his own development studio for video games, having played the protagonist in the 2017 Ubisoft video game Assassin's Creed Origins. A BAFTA nominee, he has also participated in the BAFTA Breakthrough programme. Abubakar sits on the Advisory Council of the Genesis Kickstart Fund.
Joanna Nicks (2015–18), who has been long-listed for many writing prizes, including The Bruntwood Prize 2019.
Stuart Thompson (2017-2019), who after graduating very recently has performed in a number of productions in London's main theatre district, including the National Theatre, Almeida Theatre, Young Vic.
In September 2017, the Genesis LAMDA network was launched as a mentoring programme for actors, stage managers and technicians. Through the programme, final-year students are paired with experienced graduates so that they can acquire additional skills and knowledge to equip them for successful, sustainable careers.
Many mentor-mentee relationships have developed into friendships beyond the official network and a number of further LAMDA graduates have volunteered to become mentors.
Samuel Barnett as Witwoud in The Way of the World (Sheffield Crucible Theatre).
Samuel Barnett, Genesis LAMDA Scholar 2001
How did the Genesis LAMDA Scholarship help you on your journey to becoming a professional actor? The Genesis LAMDA Scholarship enabled me to train at one of the best drama schools in the world. I would not have been able to train at drama school without the scholarship. Not only did the scholarship pay for the training, it also provided financial support so I could fully concentrate on the training. That was invaluable. The scholarship was my point of entry into the industry. I am certain I would not have been able to become a professional actor without the support I received from Genesis and John Studzinski.
What were your biggest learnings from your time as a Genesis LAMDA Scholar? During my time as a Genesis LAMDA Scholar, I learned so much about myself as an actor and as a person. The training helped me to undo bad acting habits that I had picked up prior to training. I went from being an amateur to being a professional. You have to be robust in the acting industry. The training taught me how to look after myself as an actor, how to prepare for auditions and keep myself match-fit during performances. I learned to take myself seriously as an actor rather than it feeling like a hobby.
What opportunities were you able to garner through being a Genesis LAMDA Scholar? It is very hard to stand out in this industry, so having Genesis and LAMDA on your CV elevates you as an actor because of the reputations of both institutions. They are a stamp of quality. It is an honour to be part of such a prestigious network and the support from Genesis has continued well beyond the training at LAMDA. It says everything that I still feel this support twenty years after I graduated.
What has been a career highlight since you graduated? I've been very fortunate to have some incredible opportunities since I graduated 20 years ago. Being nominated for a Tony Award and an Olivier Award for playing Posner in The History Boys, as well as being nominated for a Tony Award for playing Viola in Twelfth Night, are particular career highlights for me. I never thought I would be nominated for such prestigious awards. In terms of screen, playing the lead in an American television series for Netflix in Dirk Gently's Holistic Detective Agency is also something I didn't think would happen. It is all thanks to the generous support and nurturing I received from Genesis.
---
Young Vic
The partnership between the Genesis Foundation and the Young Vic dates back to the time, almost 20 years ago, when Rufus Norris — now Artistic Director of the National Theatre — became the Young Vic's first Genesis Director. It continues to be crucial to the company's work with emerging theatre professionals, which is key to the Young Vic's mission, and the partnership has evolved to comprise three principal strands.
Genesis Network
The Directors Program started with a group of 30 members in 2001. In 2004, this group transformed into the online Genesis Network with 200 members. Today the network comprises 1,500 theatre professionals based all over the UK. It provides theatre-makers with news on opportunities for work, training and bursaries, and enables them to meet other theatre-makers, share ideas and develop a nationwide support network. The Network was relaunched with improved web functionality in 2019, and this proved invaluable when the UK went into lockdown in March 2020: the Young Vic immediately pivoted to delivering its free workshops online, expanding the reach of these events in the process.
Genesis Fellowship
Since 2010, there have been six Genesis Fellows selected to work closely with the Young Vic's Artistic Director and develop as directors while participating in the theatre's programming and artistic planning. Each Genesis Fellow also contributes to the Young Vic's Directors Program and mentors recipients of the Genesis Future Directors Award.
Genesis Future Directors Award
Launched in 2012, the Genesis Future Directors Award gives emerging young directors the opportunity to benefit from the mentoring and nurturing of the theatre's artistic team as they create their first fully resourced production at the Young Vic.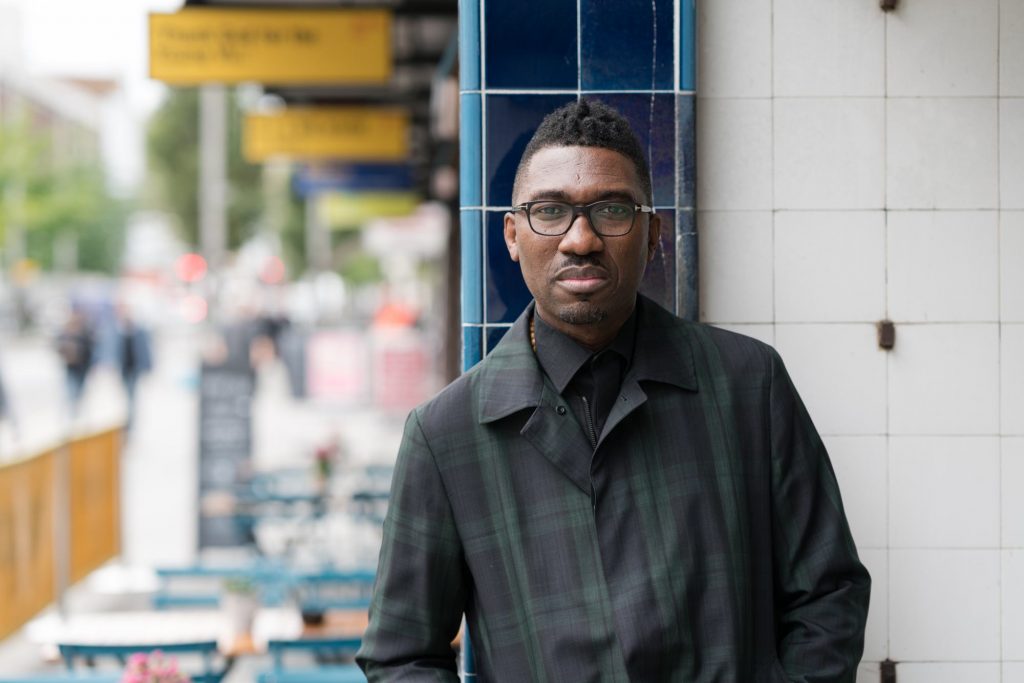 "There was a moment when I first started at the Young Vic in 2018, when I invited all of the new artistic directors to have a conversation with each other. What was tremendously interesting was that 75% of the people sitting around that table had been part of the Genesis Network and had come through the Directors Program. I had the realisation that what we do in the Directors Program doesn't just affect the Young Vic — it affects the entire sector.
"It's not academic, it's fact — the Directors Program, the Genesis Network and the Genesis Future Directors Awards profoundly influence everything we do at the Young Vic. It provides a unique opportunity for early-career artists to take their work to the next level, and our entire industry has prospered thanks to 20 years of exceptional talent.
"Our partnership with John Studzinski and the Genesis Foundation has been a constant driving force in the success of the Directors Program. Genesis's investment in nurturing the careers of artists has built a generation of artistic leaders. Our partnership has evolved over 20 years to meet the specific needs of artists. As we emerge from this past pandemic year, our shared commitment to explore new creative technology and new possibilities for artists will see our partnership continue to grow.
"From the bottom of our hearts, thank you to Genesis for 20 years of support and solidarity. We are so proud to share a legacy of building outstanding theatre-makers alongside you."
Kwame Kwei-Armah OBE
Artistic Director, Young Vic Theatre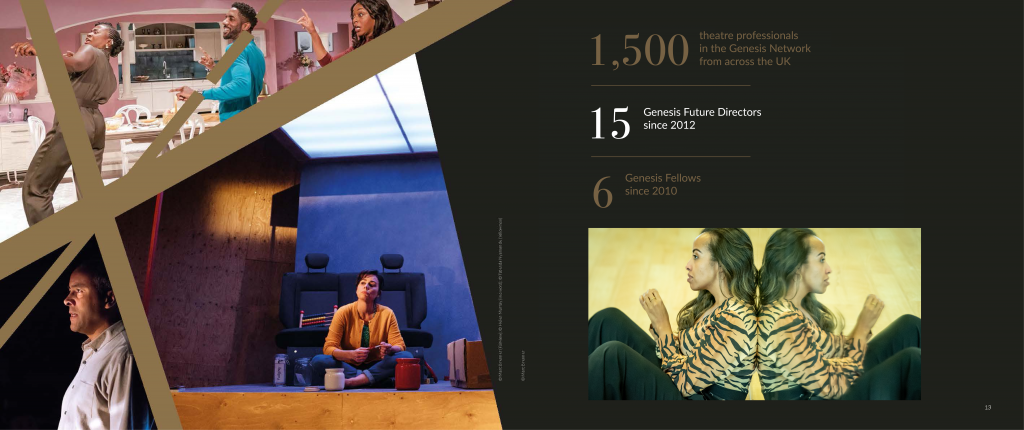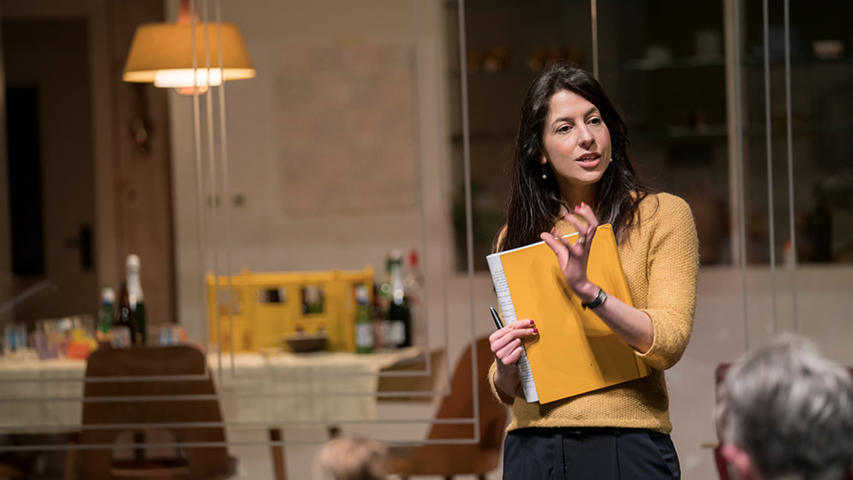 © John Persson
Natalie Abrahami, Genesis Fellow 2013
What were your biggest learnings from the Genesis Fellowship? Being a Genesis Fellow has been one of my great creative privileges. Having joined the Young Vic when its Directors Program first launched, I was always enthralled by the amazing international programme. It was an amazing opportunity to work alongside David Lan and have an insight into the way he collaborated with artists and programmed the Young Vic.
What did you gain from working at the Young Vic? As Genesis Fellow, I had the opportunity to make my Main House debut with Samuel Beckett's Happy Days, and be mentored and supported by David Lan and the incredible producing and production team. David paired me with designer Vicki Mortimer and lighting designer Paule Constable who have become core creative collaborators ever since.
Can you share any particular highlights from your tenure as a Genesis Fellow? The unique gift of being a Genesis Fellow is that it allowed me to concentrate on being a maker while also being embedded in the organisation and so having insights to the different departments that make up the incredible and intricate ecosystem of the Young Vic. I also loved being able to play such an active part in the Directors Program which had given me such amazing creative succour. The Fellowship also enabled me to make three short films, one inspired by Happy Days called Mayday, and two others: Life's a Pitch and The Roof."
© David Levine
Matthew Xia, Genesis Future Director 2013
How did the Genesis Future Directors Award help you in your professional directing career? When I won the Genesis Future Directors Award I was just beginning my freelance directing career in earnest. I had left the comfortable incubator of my local theatre — where I had made work as an associate director and an assistant — and was trying to make connections, and make work as lead artist.
What were your biggest learnings from the Genesis Future Directors Award programme? The award empowered me in my artistry and allowed me to develop my thinking about the role of the audience in theatrical spaces: ever since directing this piece I have centred the audience in the work I make. I learned how best to delineate the rehearsal process, the technical rehearsal and previews, how to facilitate the work of actors in a sensitive, gentle and encouraging way, and the importance of collaboration.
Can you share any particular highlights from your time on the programme?
The Genesis Future Directors Award enabled me to make a production of Sizwe Banzi Is Dead, supported very closely by David Lan and mentored by Natalie Abrahami — two artists I hugely admire and continue to feel supported by to this day. I was also able to showcase the work to producers and this resulted in a co-produced national tour with Eclipse which started at the Young Vic the following year.
---
The Sixteen
Since 2006, in collaboration with choral group The Sixteen and its founder and conductor Harry Christophers, the Foundation has become the UK's leading commissioner of new sacred choral music. A landmark event was the 2018 performance at the Sistine Chapel in the Vatican of Sir James MacMillan's Stabat mater, live-streamed round the world by Classic FM. June 2021 brought the premieres of new pieces by both MacMillan and Will Todd, inspired by the words of St John Henry Newman.
In 2011 the partnership launched a major training and mentoring initiative: Genesis Sixteen. A fully-funded scheme for young artists, it takes the form of concentrated courses over the period of a year, nurturing the next generation of talented choral singers and creating a bridge into the singing profession for students at conservatories and universities. Since 2014 it has also covered a scholarship for an emerging choral conductor.
Genesis Sixteen singers regularly join forces with The Sixteen for large-scale concerts. These have included Handel's Messiah at the Barbican and Westminster Cathedral, and, at the 2019 Edinburgh International Festival and the Barbican, the premiere performances of Sir James MacMillan's 5th Symphony, 'Le grand Inconnu', another Genesis Foundation commission.
In April 2021, in support of Harry Christophers' appointment as President of Cathedral Music Trust, the Genesis Foundation provided funding for a Communications and Marketing Officer. The new role is enabling the Trust to reach wider audiences, encourage new supporters and ensure that people from all backgrounds have access to world-class choral and organ music.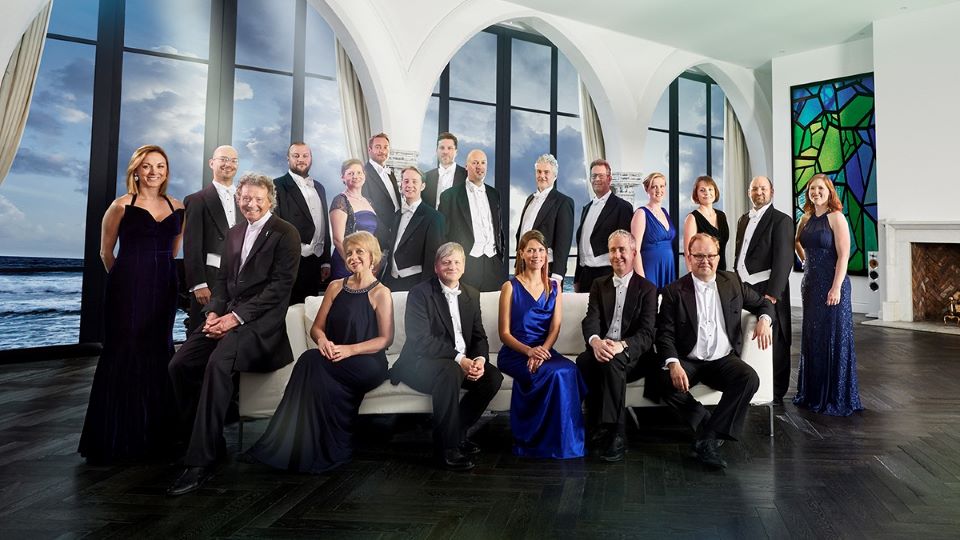 Harry Christophers on his and The Sixteen's longstanding relationship with John Studzinski and the Genesis Foundation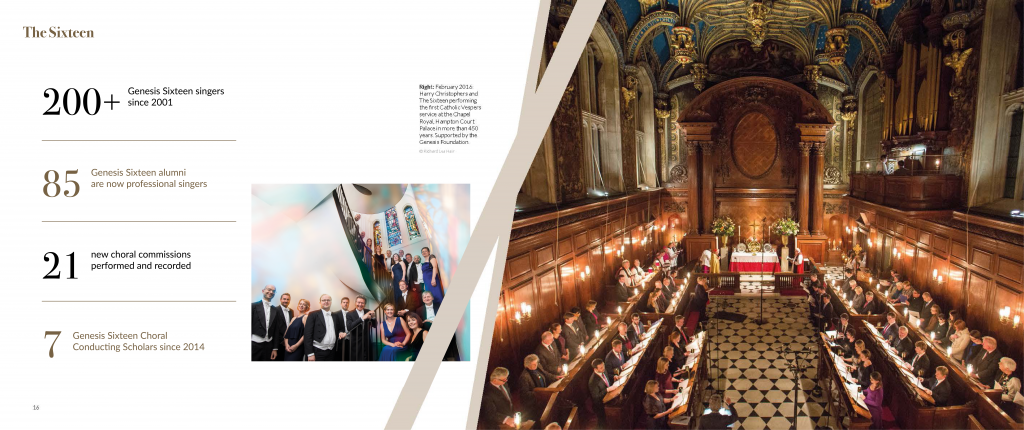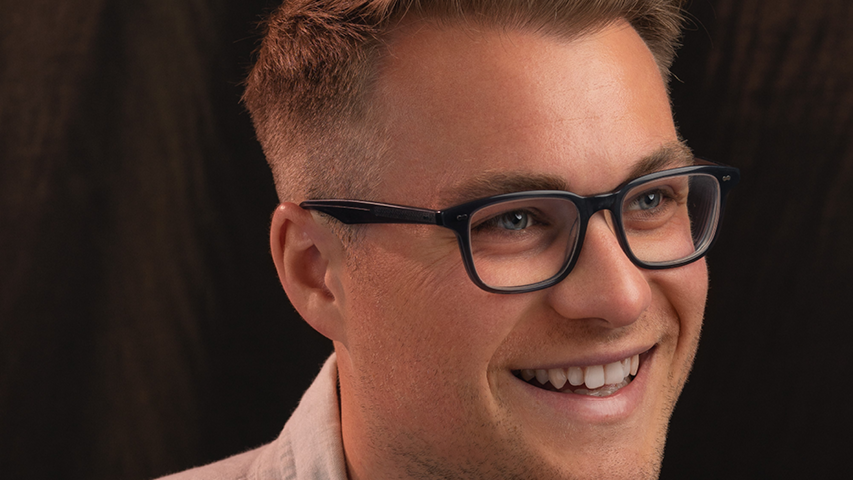 Jonathan Hanley, Genesis Sixteen cohort 6
How did Genesis Sixteen help you on your journey to becoming a professional singer? Genesis Sixteen gave me a lot of confidence, both in my ability as a choral and solo singer, but also the final push to pursue a career as a professional singer.
What did you gain from working with Harry Christophers and The Sixteen? I loved the attention to the detail of the text which Harry champions in his work, and really enjoyed exploring that aspect of choral singing, as well as a breadth of repertoire from the 15th century to the present day. A focus on good, healthy singing whilst in a choral environment was also invaluable.
What has been a career highlight since you completed the Genesis Sixteen programme? Since I completed the programme, I've been delighted to continue to go on to work as an ensemble singer and as a soloist, joining groups such as the Monteverdi Choir and Stile Antico. I think probably a career highlight so far is singing Beethoven's 9th symphony at Carnegie Hall!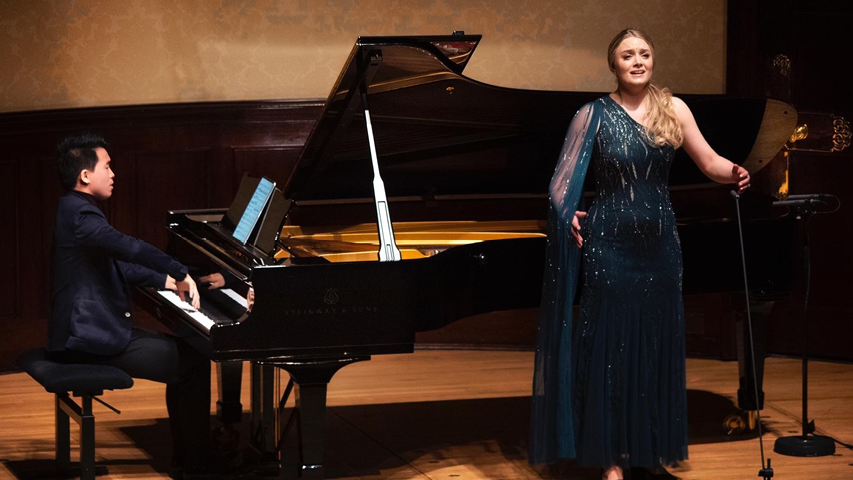 Camilla Harris, Genesis Sixteen cohort 1
How did Genesis Sixteen help you on your journey to becoming a professional singer? Harry Christophers and Eamonn Dougan expected the high level of musicality and professionalism that is required in the professional world from day one of our first course. As such, Genesis Sixteen was an incredible training ground for a career as a freelance professional. Genesis is such a respected platform that it also meant I was taken seriously as soon as I started working in the professional world.
What did you gain from working with Harry Christophers and The Sixteen? So much! Performance experience including solo opportunities, extremely high level of music-making, incredible music, including commissions by composers such as Sir James MacMillan, life-long friendships and singing in the most amazing venues in Australia, South Korea, America and much of Europe. Also, most importantly, learning how to play Perudo!
What has been a career highlight since you completed the Genesis Sixteen programme? Recording a solo album for the independent recording label, Linn Records, which will be released later this year, and performing as a recitalist at Wigmore Hall.
---
National Theatre
Since 2017, the Genesis Foundation has supported artists at the National Theatre as they develop bold, accessible new forms of British music theatre, tackling compelling stories and setting out to engage diverse audiences. The project was conceived by the National Theatre's Director, Rufus Norris (the inaugural Genesis Director at the Young Vic), who leads it with Marc Tritschler, the NT's Creative Director of Music, and Nina Steiger, the NT's Head of Play Development.
Genesis Music Theatre Group
Initially, over a period of two years, the Genesis Music Theatre Group brought together a group of two-person composer-playwright teams for a day each month. The participants studied techniques and scenes from musicals and presented their own scenes and songs with the help of musical directors and professional performers. They also had the opportunity to meet guest speakers, including lyricist-composers of the stature of Stephen Schwartz and Stephen Sondheim.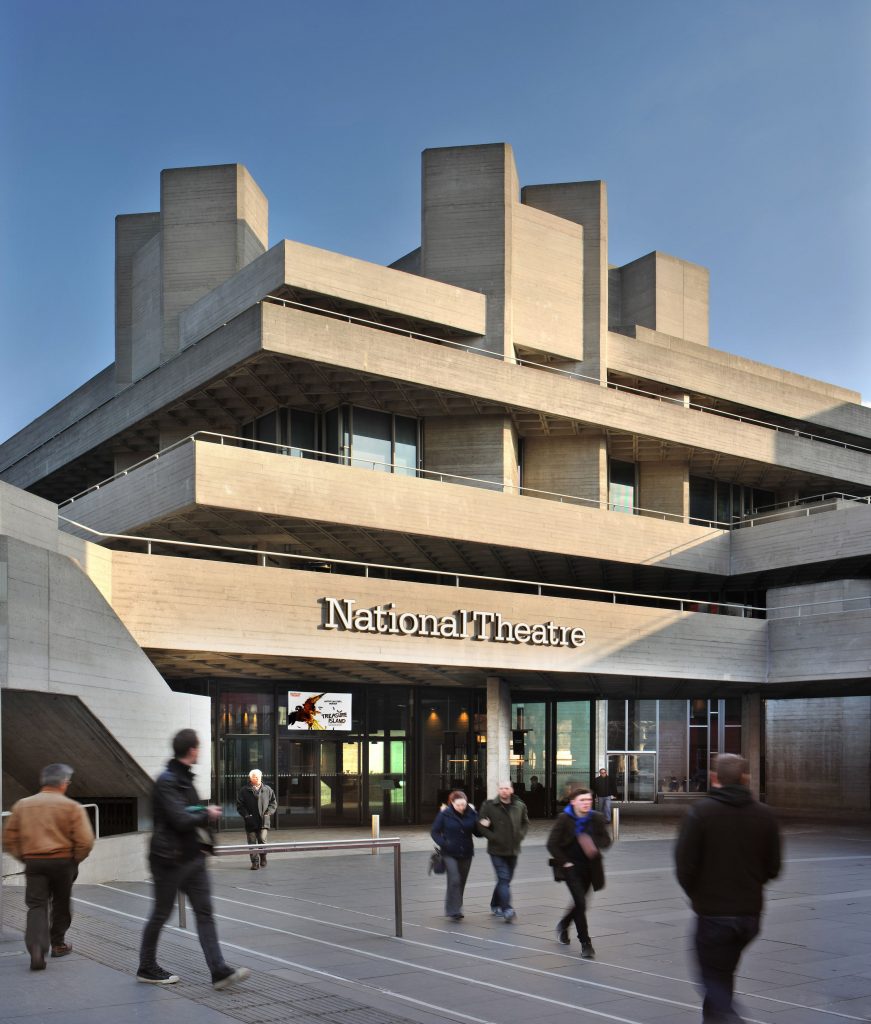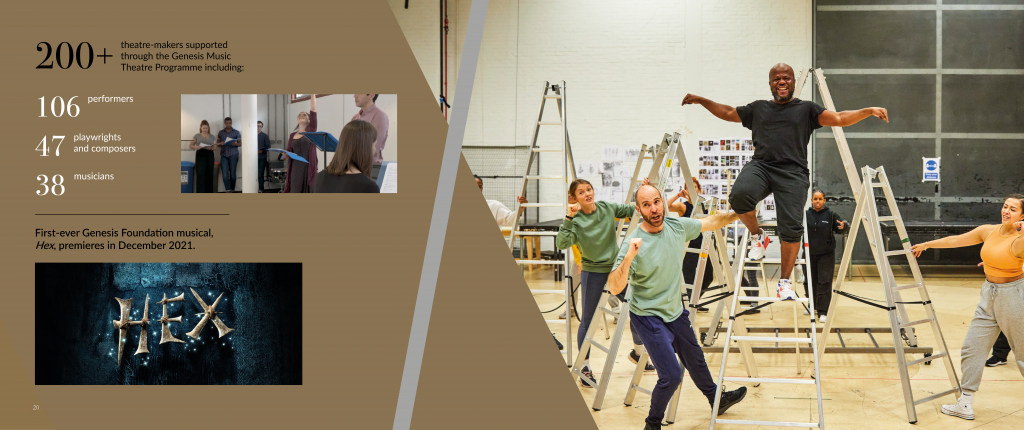 Genesis Music Theatre Programme
The Genesis Music Theatre Programme grew out of the Genesis Music Theatre Group and is designed to interact closely with the National Theatre's performance planning as it develops new shows. Despite the impact of the pandemic, the Genesis Music Theatre Programme stayed on track. In some cases, activity was accelerated, since the cancellation of performances gave composers time to concentrate on their Genesis projects. In particular, a major new musical was workshopped over 2020/21 and is due to be premiered in the NT's Olivier Theatre in December 2021: this is Hex, based on the story of Sleeping Beauty, In addition to directing the production, Rufus Norris is the show's lyricist, collaborating with composer Jim Fortune and playwright Tanya Ronder. There are three further musicals in development that the National Theatre hopes to stage over the coming seasons.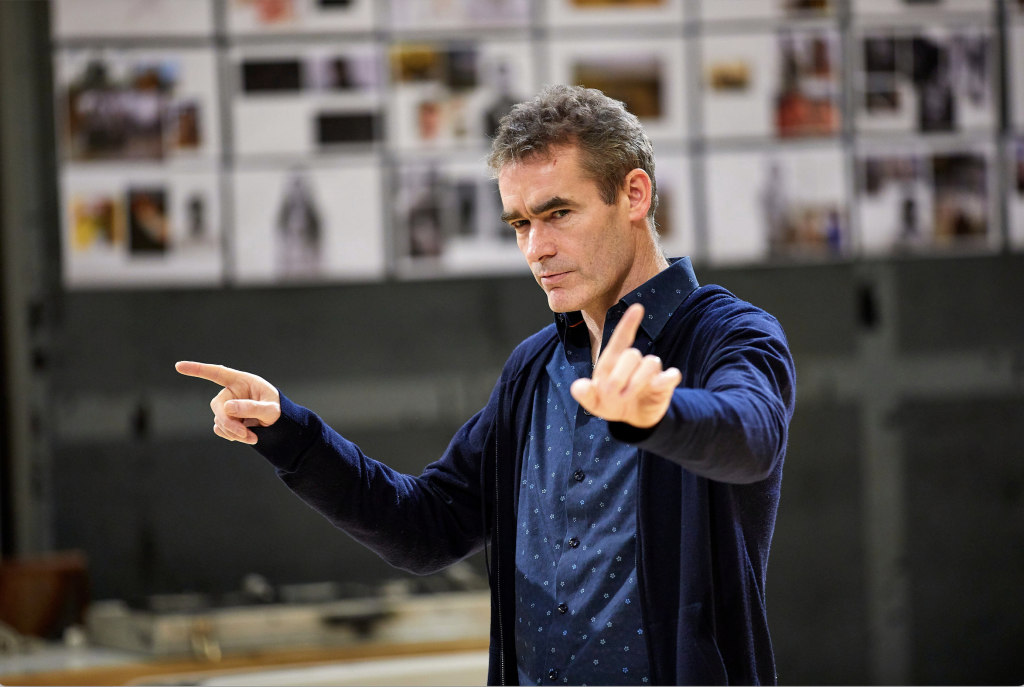 "The National Theatre's partnership with the Genesis Foundation is transforming how we support artists as they develop music theatre. It allows us to offer flexible, bespoke and comprehensive support, and ensures the time, space and resources that the development of this intensive artform requires. We are incredibly excited to begin to see some of the first fruits of the Genesis Music Theatre Programme on our stages, and are indebted to John and the Foundation for their friendship, enthusiasm and vision."
Rufus Norris
Artistic Director, National Theatre
---
Almeida Theatre
In 2019, the Genesis Foundation and Almeida Theatre announced a major new partnership in the form of the Genesis Almeida New Playwrights, Big Plays Programme.
Under the leadership of Rupert Goold, the Almeida is recognised as a home for the very best new writing. The theatre's Genesis programme is based on an annual intake of writers, especially those from under-represented or marginalised communities. The programme supports both emerging and experienced writers in developing new plays for larger stages, giving them the space and time to experiment with form and scale and to create plays of wide cultural resonance. Each writer on the programme (there were seven in the inaugural group in 2019/20) is commissioned to develop a new play with guidance and dramaturgical support from the Almeida's Literary Manager and artistic team. Over the year the writers also attend masterclasses led by established British and international playwrights and an extended research and development workshop.
Over the lockdown periods of 2020/21 it was not possible for the Almeida to provide the customary theatre-based experience for its Genesis Writers, but aspects of the programme (such as masterclasses) moved online, and the writers' deadlines on their commissions were extended. They also received emergency support from the Genesis Covid-19 Artist Fund.
 The Genesis Almeida Playwrights for 2021/22 are: Josh Elliott, Eno Mfon, Uma Nada-Rajah, Michael John O'Neill, Ava Pickett, Sid Sagar and Molly Taylor.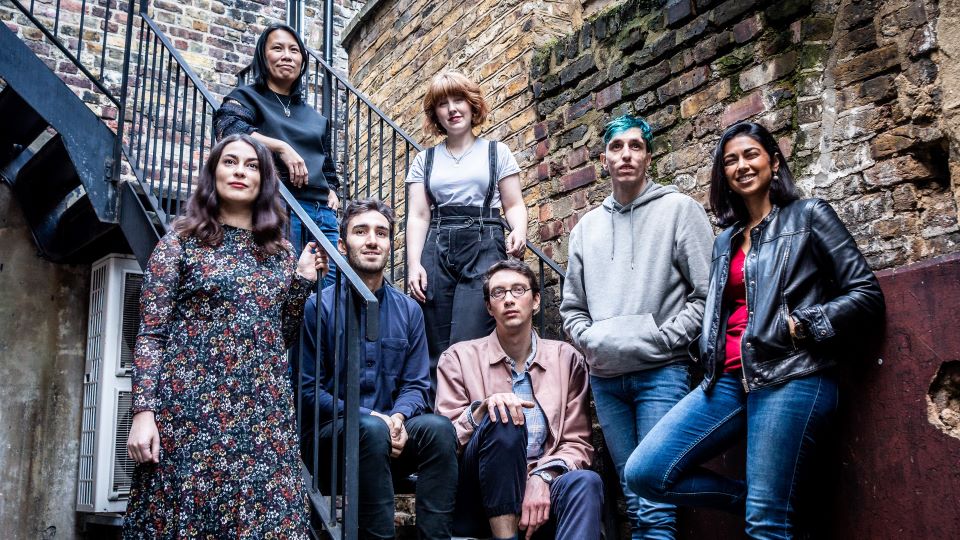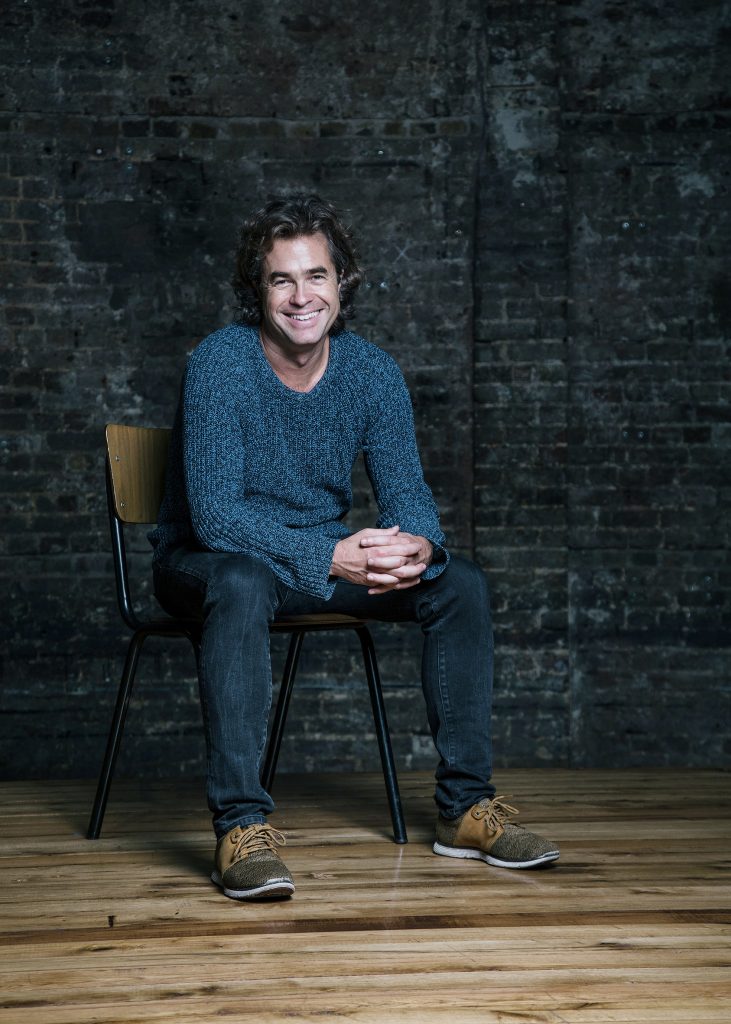 "Through masterclasses delivered by a range of brilliant artists, our Genesis Almeida writers have received advice on a variety of different aspects of playwriting, such as form, structure, visualisation, and transitioning from smaller to larger-scale work. These lessons will have directly fed into the plays that they are currently developing for the Almeida."
Rupert Goold CBE
Artistic Director, Almeida Theatre
Stephanie Bain Literary Manager, Almeida Theatre
How has the Genesis Almeida New Playwrights, Big Plays Programme impacted new work development at the Almeida? It has been brilliant having new diverse voices writing new plays for the Almeida. It has meant that we can revitalise our pipeline of new writing and, having been in discussion with the writers as they are working on their drafts, my expectation is that the new works that they produce will contribute significantly to the development, diversification and excellence of the new writing strand of the Almeida's work. I look forward to continuing to support them in developing their plays towards eventual production at the Almeida.
Can you share any particular highlights from the programme? The masterclass programme has been rich and varied and I know that there are some masterclasses that writers have found particularly helpful. One writer has spoken about how Jenny Worton's exercises on comparing conflict in the novel, the screenplay and the play were particularly helpful in developing her Genesis play and another has spoken about using Sacha Wares' techniques for reading your own work as part of his practice. I, myself, have found that I have picked up a lot of knowledge and dramaturgical techniques from the masterclass leaders to carry forth into the way I support writers working at the Almeida.
---
Royal Court Theatre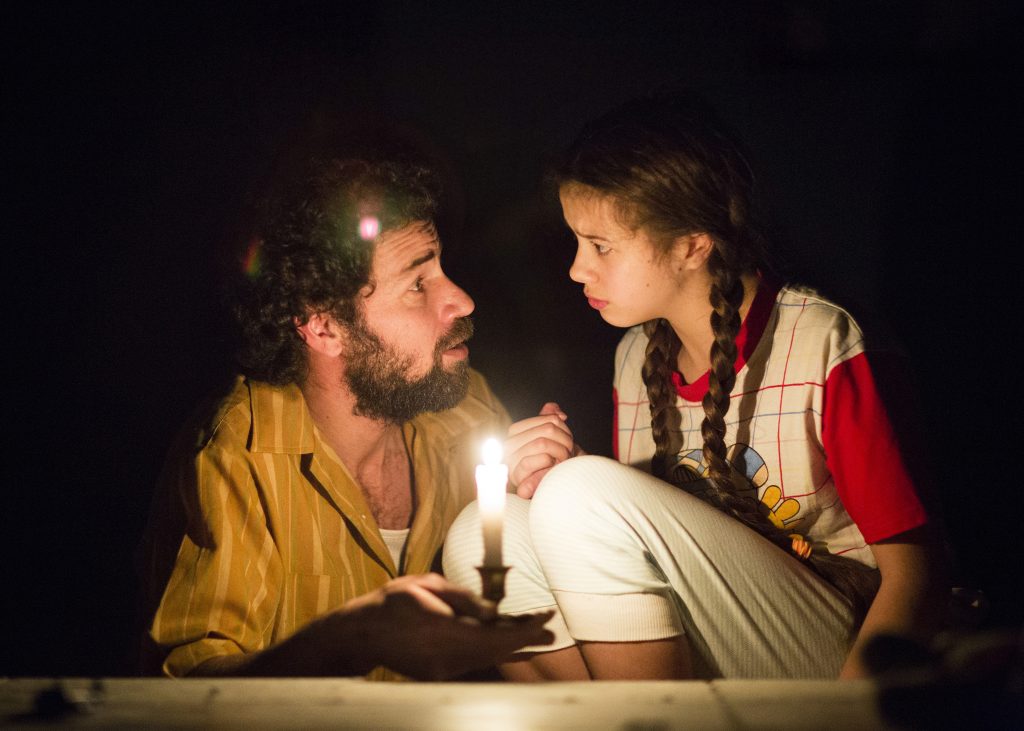 The Royal Court Theatre has a long tradition of nurturing and showcasing new writing. Over a period of more than 20 years, until 2018, John Studzinski and subsequently the Genesis Foundation supported the Royal Court Theatre's International Playwrights programme. This partnership enabled over 300 writers from more than 70 countries, working in over 40 languages, to have their plays read, developed and produced by the Royal Court Theatre's International team, headed by Elyse Dodgson (1945–2018).
"Before the Genesis Foundation met Elyse Dodgson, the Royal Court focused on domestic writing," explains John Studzinski. "Elyse's vision was to develop an international breadth and depth of writers, which the Foundation made a reality … Her sustained passion for nurturing artistic talent, her humility and ability to put herself in the position of a young playwright transformed the work of the Royal Court, opening it up to a huge range of international talent."
With the support of the Genesis Foundation, the Royal Court Theatre enjoyed a creative dialogue with hundreds of playwrights and theatre-makers all over the world. This embraced long-term relationships with playwrights in Brazil, France, Germany, India, Romania, Spain, Uganda, Chile, South Africa, Zimbabwe and many other countries, and the staging of workshops in Ukraine, Mexico, Nigeria, Russia and across the Middle East. The programme resulted in many full productions at the Royal Court, and in staged readings and one-off events.
Autumn 2017 marked a highpoint in the International Playwrights programme. There were three full productions, in the Royal Court's main auditorium and smaller Jerwood Theatre, of new plays by writers from Chile (B by Guillermo Calderón), Ukraine (Bad Roads by Natal'ya Vorozhbit) and Syria (Goats by Liwaa Yazji). They were the fruit of long-term Genesis Foundation funded projects in Latin America, Eastern Europe and the Middle East.
From Spring 2018, the Royal Court's work on international writing projects was integrated into its mainstream activities.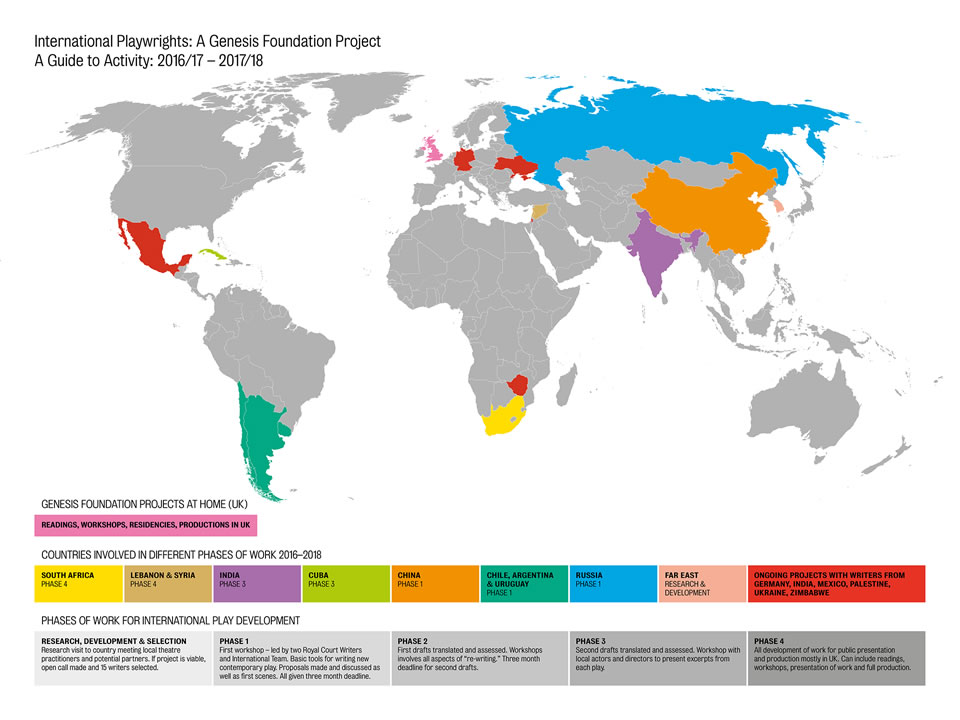 Visualisation of all the countries involved in the International Playwrights programme in 2016-2018
---
£100,000 Genesis Covid-19 Fund
Launched in July 2020, four months after the UK first locked down, the £100,000 Genesis Covid-19 Fund provided a lifeline for freelance artists associated with the Genesis Foundation's established partnership programmes. It gave crucial support to at least 300 theatre professionals, 140 directors and 40 singers.
Equivalent to 20 per cent of the funding already committed to the Foundation's partners for 2020–21, the £100,000 was distributed to recipients through the Almeida Theatre, LAMDA, National Theatre, Young Vic and The Sixteen. Each partner organisation made grants at its discretion in order to support the many freelance actors, writers, directors and performers in the Genesis network whose livelihood was threatened by lockdown. The funding was released in two tranches, each £50,000, the first in July 2020 and the second in time for Christmas 2020.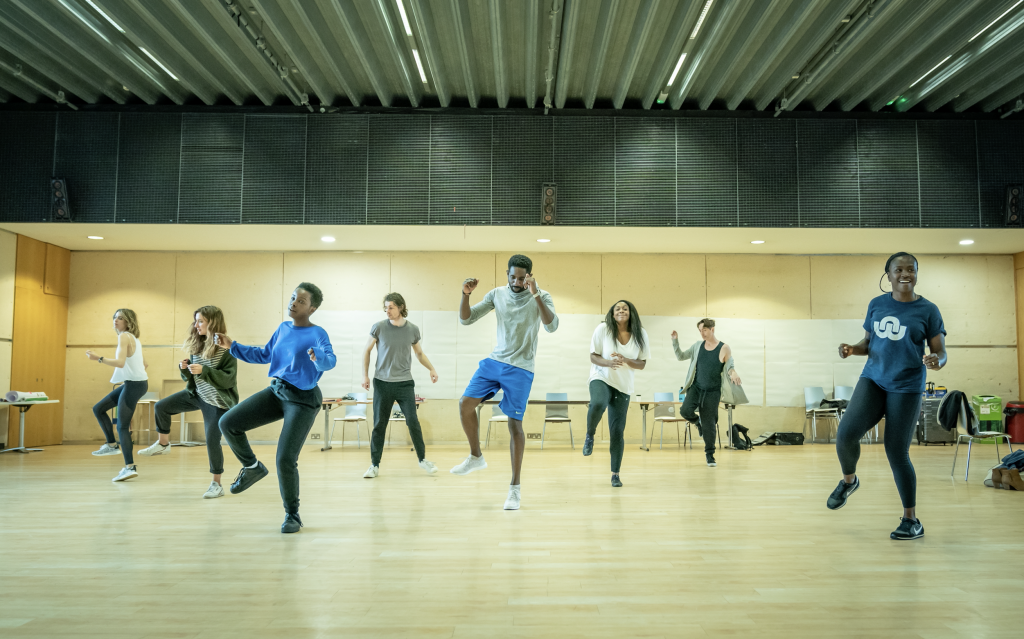 © Marc Brenner (Fairview, Young Vic)
"This grant is highly important as it is invaluable in providing much needed financial support that will allow me to balance my reduced income. It is also a real boost to the confidence I have in my writing, as it is recognition that the diverse world that I seek to create in my plays does have worth and substance, and is worth writing about. The grant is also a ray of hope in times which are so very bleak and have been so very pressured."
Maxine Kolaru
Playwright
"The UK's creative industries have suffered unprecedented damage from Covid-19," said John Studzinski, Founder and Chairman of the Genesis Foundation, when he launched the fund. "Emergency aid has come from Arts Council England and the Heritage Lottery fund, and we welcome the government's ambitious rescue package. In the meantime, freelancers are bearing the brunt as theatres, museums and music organisations are struck by catastrophe. This fund is intended as a lifeline to the artists the Genesis Foundation believes in.
"Supporting the arts is not charity, it is an investment. The cultural sector is a crucial driver for this country's economy and prestige. It reinforces communities. It enhances our mental health, well-being and spiritual growth. We need artists more than ever. Let's help them now."
---
Sacred Music Commissions

April 2018: Vatican premiere of Sir James MacMillan's Stabat mater, commissioned by the Genesis Foundation. Performed by Harry Christophers and The Sixteen and Britten Sinfonia.
The Genesis Foundation is the UK's largest commissioner of sacred music, having brought into being more than 25 choral works over a 20-year period. John Studzinski first commissioned a piece of sacred choral music in 1997: Roxanna Panufnik's Westminster Mass, which was premiered by Westminster Cathedral Choir at Westminster Cathedral in 1998, in honour of Cardinal Hume's 75th birthday. When the Genesis Foundation came into being, further commissions followed from such composers as Sir James MacMillan, Will Todd and Roderick Williams.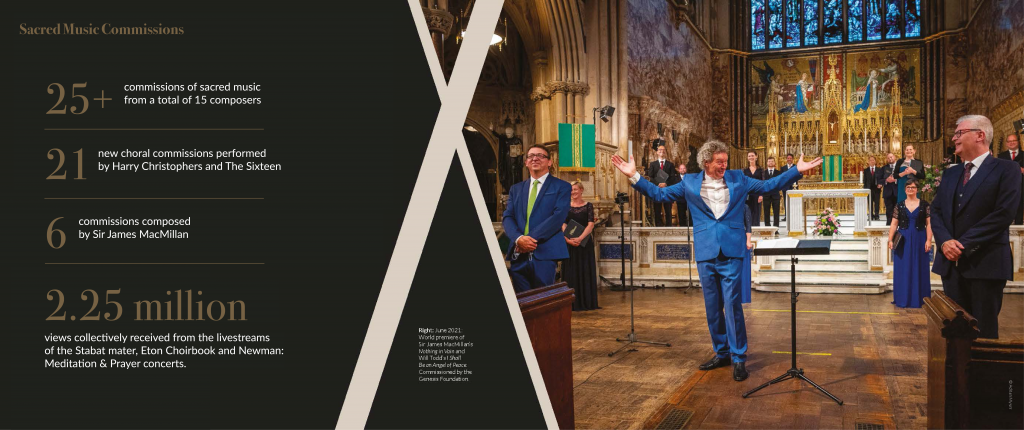 "John Studzinski and his Genesis Foundation are very interested in what we're doing and they are motivated to stimulate our creativity and imagination. It's wonderful to have that support right across the arts in music and in drama and many other things".
John Studzinski has become a great friend, mentor and advisor, even in my work. I've had wonderful conversations with him over the years about choral music, sacred music and the way that sacred text can be set to music, and for that reason I regard him as a friend. His input into my work has been considerable and significant, including the suggestions of writing my Stabat mater and my fifth symphony."
Sir James MacMillan CBE
Composer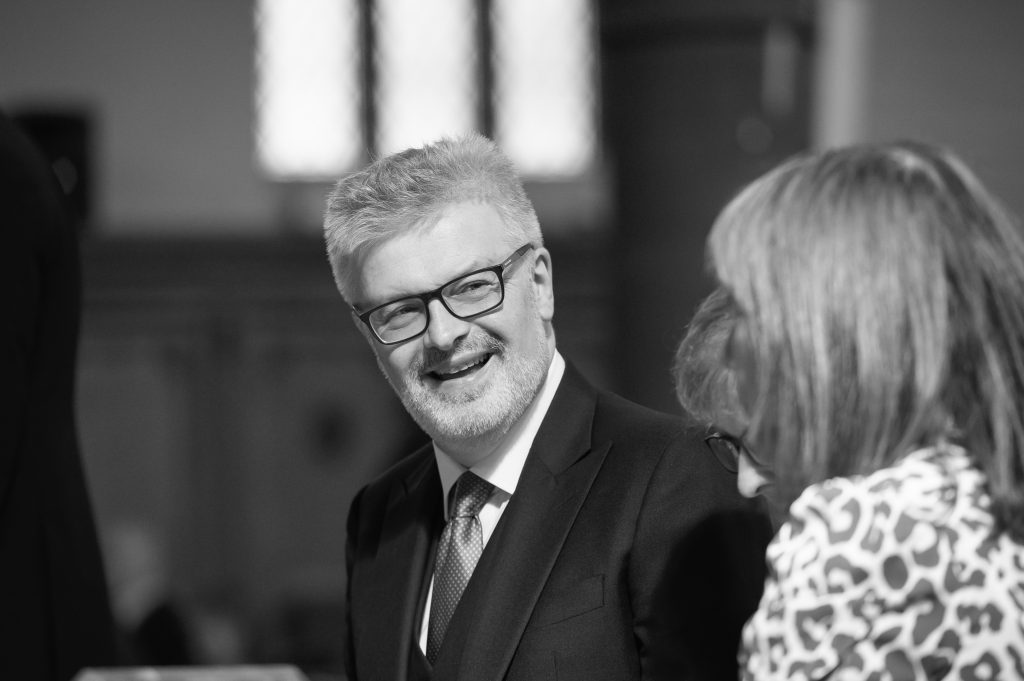 Will Todd and Sir James MacMillan on their collaborations with the Genesis Foundation,
featuring the world premiere of our commissions based on texts by Saint John Henry Newman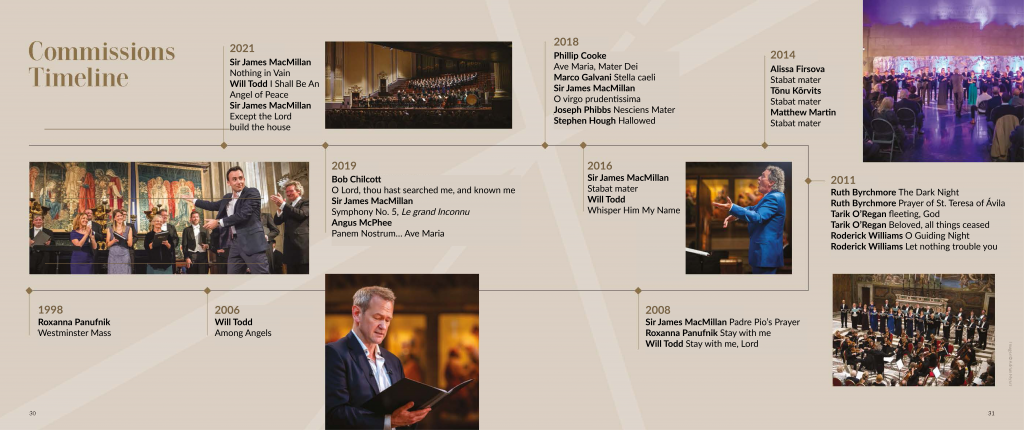 Full Newman: Meditation & Prayer concert
---
£25,000 Genesis Foundation Prize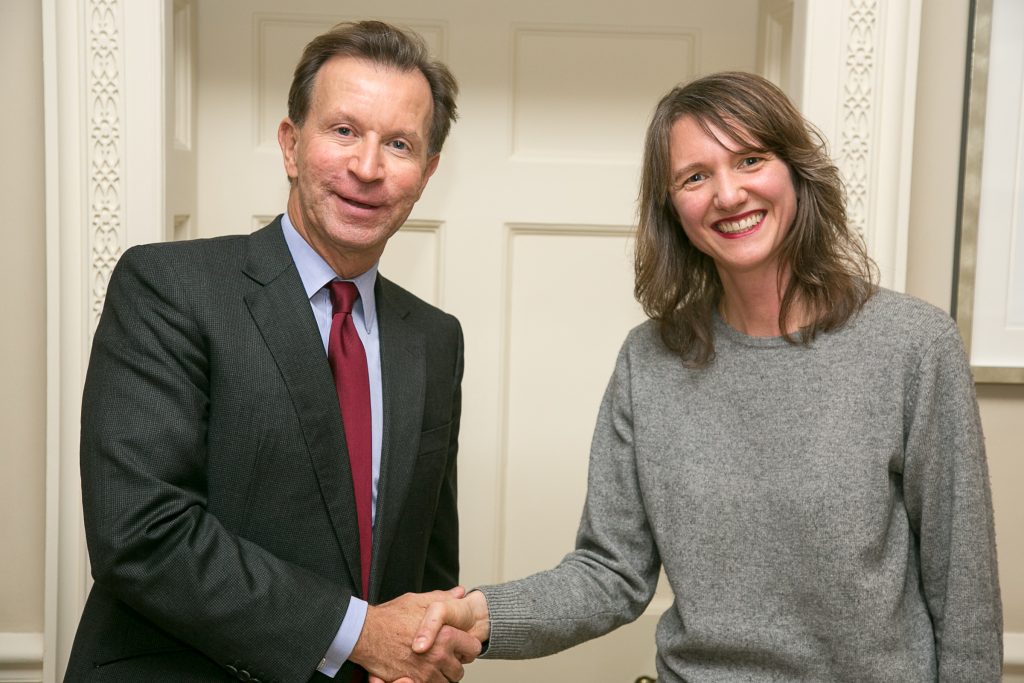 Since 2012 the biennial Genesis Foundation Prize has recognised an outstanding mentor of young artistic talent. The first and only prize of its kind, it reflects the Genesis Foundation's fundamental belief in the importance of mentoring and networks. The £25,000 award is made following a nomination process and consideration by a distinguished panel of judges.
The Genesis Foundation Prize goes beyond acknowledging achievement in inspiring and training young arts professionals, since prizewinners invest their £25,000 award in further transformative mentoring work.
The 2020 Genesis Foundation Prize was awarded to Rebecca Salter, President of the Royal Academy. It recognised her attainments as Keeper of the Royal Academy where she was responsible for guiding the RA Schools. She is using the prize money to develop a new programme which will provide graduates of the RA School with training in the professional skills and resilience they need to survive as practising artists in the commercial world.
Previous winners of the Genesis Foundation Prize are: Joe Murphy and Joe Robertson, Founding Co-Artistic Directors of the Good Chance Theatre (2018); Hadrian Garrard, Director of Create London (2016); Polly Staple, former Director of the Chisenhale Gallery and current Director of Collection, British Art, at the Tate (2014), and Hamish Dunbar, Founder of Café Oto (2012).
"As Keeper of the Royal Academy, I was honoured to be awarded the Genesis Foundation Prize 2020, which enabled us to provide extended support for Royal Academy Schools students and graduates."
Rebecca Salter RA
President, Royal Academy
---
Genesis Jewish Book Week Emerging Writers Programme
In April 2021, the Genesis Foundation and Jewish Book Week (JBW) announced the Genesis Jewish Book Week Emerging Writers' Programme. Championing and supporting emerging writers in the UK, it offers bursaries and mentorship to 10 emerging writers of any background and age (over 18), producing fiction, non-fiction or poetry. The writers chosen to inaugurate the programme were Sara Doctors, Sophie Dumont, Madeleine Dunnigan, Linda Ford, Philip Glassborow, Fiona Monahan, Eleanor Myerson, Julie Noble, Karen Skinazi and Guy Stagg.
The participants are receiving mentorship from a group of established authors, journalists and poets, including Cathy Rentzenbrink, Sophie Herxheimer, Sam Leith, Kavita Puri and Tracy Chevalier. They are also attending sessions with a diversity of experts in the literary field, such as award-winning novelist Elif Shafak, Adam Freudenheim, managing director of Pushkin Press, and agents from The Blair Partnership, whose clients include J. K. Rowling, Rafael Behr and Pete Townshend. Further components of the scheme are peer support sessions, bursaries of up to £1,500 to complete research and writing on a project on the theme of 'Beginnings', and the opportunity to speak at Jewish Book Week's 70th anniversary festival in March 2022.
Claudia Rubenstein
Director, Jewish Book Week
Hear from some of the mentors and mentees on our podcast, Artistic Minds:
Listen to more episodes on the podcast
"Mentoring is such an enriching pleasure for me and the standard of applications I saw was so high that I would happily have worked with all the writers. I am excited to see how the programme will develop and look forward to doing the work."
Cathy Rentzenbrink
Author and Genesis JBW Emerging Writers' Programme Mentor
---
Exhibitions
Living with gods: peoples, places and worlds beyond | British Museum
The Genesis Foundation was the sole sponsor of major exhibition Living with Gods: peoples, places and worlds beyond at the British Museum.
The exhibition ran from November 2017 – April 2018 and examined the practice and expression of religious beliefs in the lives of individuals and communities across the world.
Bill Viola / Michelangelo: Life, Death, Rebirth | Royal Academy of Arts
The Royal Academy of Arts' major exhibition, Bill Viola / Michelangelo: Life, Death, Rebirth, ran from January – March 2019, sponsored by the Genesis Foundation.
The exhibition paired installations by video artist Bill Viola with rarely-seen drawings by Michelangelo, exploring how these artists shared a deep preoccupation with the nature of human experience and existence, despite working five centuries apart and in radically different media. This was the first time that these artists' acclaimed works had been seen together.
The Royal Academy of Arts' major exhibition, Bill Viola / Michelangelo: Life, Death, Rebirth, ran from January – March 2019, sponsored by the Genesis Foundation.
The exhibition paired installations by video artist Bill Viola with rarely-seen drawings by Michelangelo, exploring how these artists shared a deep preoccupation with the nature of human experience and existence, despite working five centuries apart and in radically different media. This was the first time that these artists' acclaimed works had been seen together.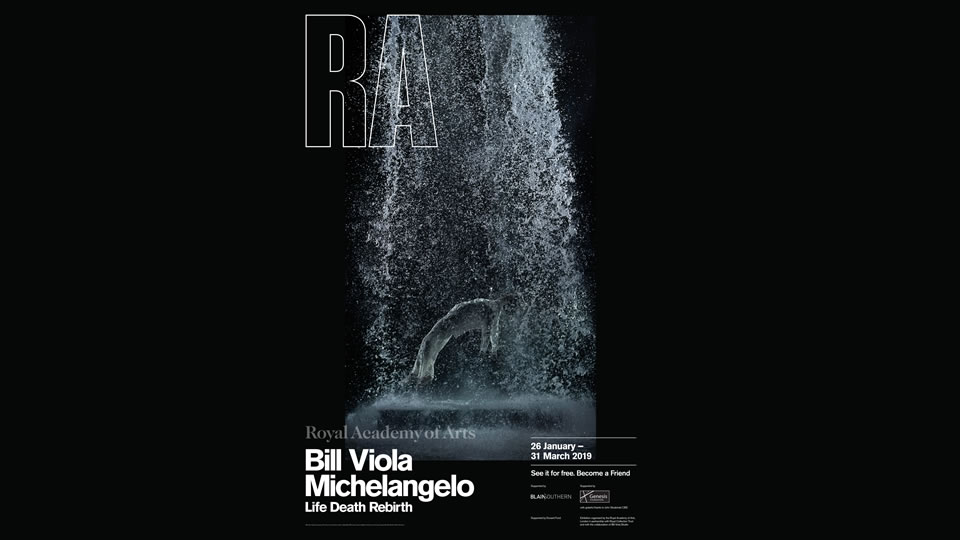 ---
Thank you for your ongoing support!
A final word from our Founder and Chairman, John Studzinski CBE