Podcast
ARTISTIC MINDS: A Genesis Foundation Podcast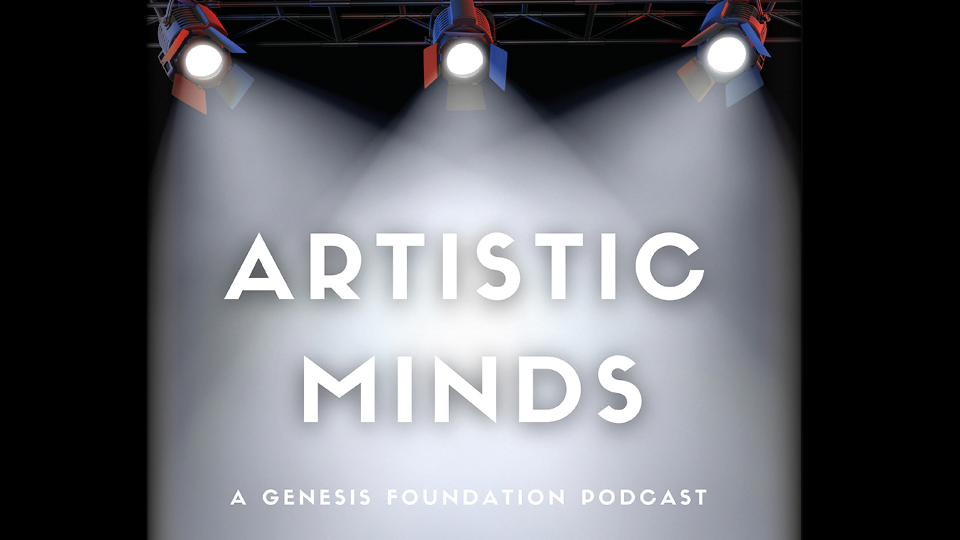 To mark its 20th anniversary in 2021, the Genesis Foundation launched ARTISTIC MINDS, an arts podcast with twenty episodes featuring leading figures in the world of arts and culture, including theatre, visual art and classical music. Each episode in the arts podcast provides thought-provoking insights and meaningful discussions on key issues of our time. ARTISTIC MINDS is presented and produced by broadcaster James Jolly.
Subscribe to ARTISTIC MINDS on any of these platforms:
EPISODE 19
The craft of writing for bigger stages
Stephanie Bain with Iman Qureshi, Amy Ng, and Sami Ibrahim | June 2022
Stephanie Bain, Literary Manager at the Almeida Theatre, talks to Iman Qureshi, Amy Ng, and Sami Ibrahim about their writing practices, how they developed as playwrights throughout and beyond lockdown, and the process of writing stories for big stages. The three playwrights, who were part of the inaugural cohort for the 'Genesis Almeida New Playwrights, Big Plays Programme', discuss a play they developed within the programme, and reflect on the creation of new work in the post-pandemic theatre industry.
---
EPISODE 18
Developing a musical, from scoring and workshops to the stage
Jim Fortune and Marc Tritschler | February 2022
Jim Fortune, songwriter and composer, and Marc Tritschler, Creative Director of Music at the National Theatre, examine how they developed the music of Hex, the National Theatre's latest musical based on the Sleeping Beauty folk tale, through the Genesis Music Theatre Programme. The pair break down all the components that go into developing a new musical, highlight key songs from Hex, exploring the evolution from motif to song, and discuss the additional challenges that arise from music theatre development in a pandemic. This episode features musical interludes from the Hex soundtrack.
---
EPISODE 17
The vital role of Mentoring
George Turvey and Samuel Bailey | February 2022
George Turvey, Co-Founder and Artistic Director of Papatango Theatre Company and winner of the 2022 Genesis Foundation Prize, and Playwright Samuel Bailey discuss the impact of both formal and informal mentors, as well as the mentoring aspect of their own multi-faceted relationship that stemmed from producing Samuel's play Shook through the Papatango New Writing Prize. The pair also look ahead at their next collaboration, as part of the Papatango Theatre's new scheme, the Playwright-Player Commission,which is supported by George's Genesis Foundation Prize fund.
---
EPISODE 16
Biographical writing
George Prochnik and Guy Stagg | December 2021
In the 2nd episode featuring participants in the inaugural Genesis Jewish Book Week Emerging Writers' Programme, George Prochnik, author of New York Times "Editor's Choice" and Wingate Prize short-listed Stranger in a Strange Land: Searching for Gershom Scholem and Jerusalem and Guy Stagg, author of Edward Stanford Travel Memoir of the Year 2019 The Crossway, explore biographical writing and how one can use it not only as a lens into the subject or period, but also into oneself. They particularly focus on Guy's second book in development, Triptych, which is a group biography, focusing on Austrian philosopher Ludwig Wittgenstein, French philosopher Simone Weil and Welsh poet and painter David Jones.
---
EPISODE 15
Delving into the past through fiction
Tracy Chevalier FRSL and Dr Karen Skinazi | November 2021
Acclaimed novelist Tracy Chevalier FRSL, best known for her second novel Girl with a Pearl Earring, which was later adapted into a film starring Scarlett Johansson and Colin Firth, and Dr Karen Skinazi, Senior Lecturer and the Director of Liberal Arts at the University of Bristol, are participants in the inaugural Genesis Jewish Book Week Emerging Writers' Programme, which champions and supports selected emerging writers in the UK through mentorship and bursaries. The pair discuss their mentor/mentee relationship and how it supports Karen as she writes her latest novel, Ness. They also share why they enjoy writing about the past and the challenges it can bring.
---
EPISODE 14
Earning from your art unapologetically
Jennifer Tang and Abdul Shayek | July 2021
Jennifer Tang, Associate Director & Genesis Fellow at the Young Vic, and Abdul Shayek, Artistic Director/Joint CEO of Tara Theatre & member of the Genesis Kickstart Fund Advisory Council, discuss all things money-related. They particularly focus on freelance artists, how they determine what their work is worth and how society's view of theatre and art impacts artists' finances.
---
EPISODE 13
Reviving Britain's cultural sector
Jamie Njoku-Goodwin and Ed Vaizey | May 2021
Jamie Njoku-Goodwin, Chief Executive of UK Music and member of the Genesis Kickstart Fund Advisory Council, and Ed Vaizey (Lord Vaizey of Didcot), member of the House of Lords, look ahead to a post-Covid cultural sector. They discuss how we can move from the support phase to the recovery phase, the need for protection of freelancers in the arts and why the arts will power both the economic and social recovery of the UK.
---
EPISODE 12
Finding your artistic voice in the world of dance and embracing risk
Farooq Chaudhry and Viviana Durante | March 2021
Leading UK dance figures Farooq Chaudhry (co-founder & Producer of Akram Khan Company and member of the Genesis Kickstart Fund Advisory Council) and Viviana Durante (Artistic Director of the English National Ballet School) discuss the importance of always remaining a student, the wonders of cross-genre collaboration in dance, and the need to embrace risk when creating a piece of work.
---
EPISODE 11
The need for more UK music theatre and developing new work at the National Theatre
Rufus Norris and Nina Steiger | January 2021
The National Theatre's Head of Play Development Nina Steiger and Artistic Director Rufus Norris, who is also a member of the Genesis Kickstart Fund Advisory Council, join for a lively discussion about this febrile time for theatre. Together, they discuss the crisis the sector is facing and how new work development and programming at the National Theatre is directly affected. They look at the future, at the need to refresh the canon and demistify the process of developing new work, with a focus on music theatre.
---
EPISODE 10
Using innovation to rise to the challenges of Covid-19 as conductors and singers
Young professionals special: Harry Christophers and Genesis Sixteen alumni Sarah Latto, James Way & Jamie Wright | November 2020
Ahead of next year's 10th anniversary for Genesis Sixteen, our young artists scheme for 18-23 year olds in collaboration with The Sixteen, The Sixteen's conductor Harry Christophers speaks to former participants about their evolution from young artist to professional, the digital renovation of the classical music industry, and using digital technology to pioneer new forms of performance and collaboration, like Wright's renowned Stay at Home Choir.
---
EPISODE 9
Overcoming Covid-19 in the creative sector and cultivating a diverse generation of artistic talent
Sir Simon Rattle and The Lord Mayor of the City of London | October 2020
As part of a series of cultural events to celebrate arts and culture in the City of London, hosted by the Lord Mayor of the City of London Alderman William Russell and the Genesis Foundation and chaired by James Jolly, Sir Simon Rattle and the Lord Mayor came together for a cultural conversation. They discussed the impact of Covid-19 on the classical music industry, the resilience and proactivity of the London Symphony Orchestra and Berlin Philharmonic, and how the LSO's East London Academy is nurturing a new generation of artistic talent that looks more like London.
---
EPISODE 8
The trials and tribulations of writing and diversifying theatre
David Lan and Roger Robinson | July 2020
Playwright, producer and writer David Lan launched the Genesis Directors' Network, Future Directors Award and Fellowship while he was Artistic Director of the Young Vic. He speaks to poet and educator Roger Robinson whose collection of poems, A Portable Paradise, won the both TS Eliot Poetry Prize in 2019, they speak about a sense of place, positive action and whether or not it is possible to transcend one's own experience of the world.
---
EPISODE 7
The importance of theatre and what it takes to write "big plays"
Rupert Goold and James Graham | June 2020
Artistic Director of the Almeida Theatre Rupert Goold and acclaimed playwright James Graham ask, mid-lockdown, the timely question: "What does it do, a play?" They discuss the importance of theatre as an artform, and what is needed for playwrights to write "big plays", from politics to intimacy.
---
EPISODE 6
Reinvention, revolution and homecoming mid-lockdown
Kwame Kwei-Armah and Sir David Adjaye | May 2020

Artistic Director of the Young Vic Theatre Kwame Kwei-Armah and international architect Sir David Adjaye discuss, mid-lockdown, the importance of reinvention to build the art of tomorrow, the concept of roots and "homecoming", and the art of finding out where you come from to know where to go next.
---
EPISODE 5
Building-up one's resilience as an artist and how to navigate rejection
Rebecca Salter and Barry Smale | March 2020

President of the Royal Academy of Arts Rebecca Salter and psychotherapist, trauma specialist and lecturer Barry Smale discuss the central role played by resilience for artists to thrive, and the programme Salter is starting at the Royal Academy with her Genesis Prize award.
---
EPISODE 4
The benefits of singing and the future of choral music
Alexander Armstrong and Harry Christophers | January 2020

Conductor Harry Christophers and actor, broadcaster and singer Alexander Armstrong discuss the power of choral singing, especially from a young age as they both experienced, and the importance of nurturing the next generation of choral singers and composers.
---
EPISODE 3
Why it's important that artistic creation is rooted in community and creating affordable art
Grayson Perry and Hadrian Garrard | December 2019

Contemporary artist Grayson Perry and Founder and Director of Create London Hadrian Garrard discuss what it means to be an artist in today's world, and explain the impact that class, housing issues and inequalities have on creativity and the production of art.
---
EPISODE 2
The Holy Spirit and MacMillan's Fifth Symphony
Cardinal Nicholas and Sir James MacMillan | July 2019

Composer Sir James MacMillan and Archbishop of Westminster Cardinal Vincent Nichols discuss the Holy Spirit, MacMillan's Fifth Symphony and the responsibility behind the artist's power of creation.
---
EPISODE 1
The ethics of philanthropy and nurturing artistic leadership
John Studzinski CBE and Jan Dalley | July 2019

John Studzinski, Founder and Chairman of the Genesis Foundation and Jan Dalley, Arts Editor of the Financial Times initiate the arts podcast with a discussion on philanthropy and the meaning behind what Studzinski calls the "three Ts: time, treasure and talent".