Podcast
ARTISTIC MINDS: A Genesis Foundation Podcast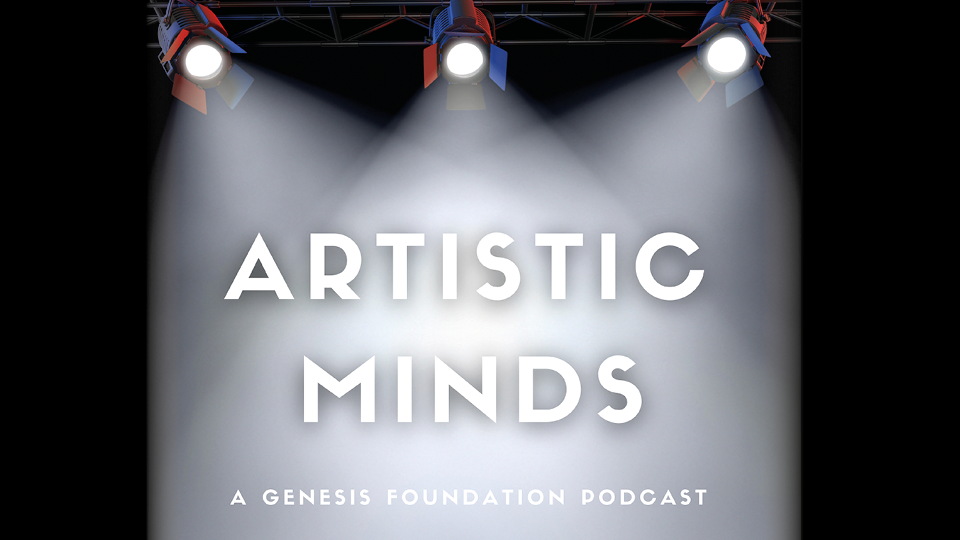 In the lead up to its 20th anniversary in 2021, the Genesis Foundation has launched ARTISTIC MINDS, an arts podcast with twenty episodes featuring leading figures in the world of arts and culture, including theatre, visual art and classical music. Each episode in the arts podcast provides thought-provoking insights and meaningful discussions on key issues of our time. ARTISTIC MINDS is presented and produced by broadcaster James Jolly.
EPISODE EIGHT: A SENSE OF PLACE
David Lan and Roger Robinson | July 2020
Playwright, producer and writer David Lan launched the Genesis Directors' Network, Future Directors Award and Fellowship while he was Artistic Director of the Young Vic. He speaks to poet and educator Roger Robinson whose collection of poems, A Portable Paradise, won the both TS Eliot Poetry Prize in 2019, they speak about a sense of place, positive action and whether or not it is possible to transcend one's own experience of the world.
---
EPISODE SEVEN: WRITING TOMORROW
Rupert Goold and James Graham | June 2020
Artistic Director of the Almeida Theatre Rupert Goold and acclaimed playwright James Graham ask, mid-lockdown, the timely question: "What does it do, a play?" They discuss the importance of theatre as an artform, and what is needed for playwrights to write "big plays", from politics to intimacy.
---
EPISODE SIX: RETHINKING FORM
Kwame Kwei-Armah and Sir David Adjaye | May 2020

Artistic Director of the Young Vic Theatre Kwame Kwei-Armah and international architect Sir David Adjaye discuss, mid-lockdown, the importance of reinvention to build the art of tomorrow, the concept of roots and "homecoming", and the art of finding out where you come from to know where to go next.
---
EPISODE FIVE: RESILIENCE
Rebecca Salter and Barry Smale | March 2020

President of the Royal Academy of Arts Rebecca Salter and psychotherapist, trauma specialist and lecturer Barry Smale discuss the central role played by resilience for artists to thrive, and the programme Salter is starting at the Royal Academy with her Genesis Prize award.
---
EPISODE FOUR: THE BENEFITS OF SINGING CHORAL MUSIC
Alexander Armstrong and Harry Christophers | January 2020

Conductor Harry Christophers and actor, broadcaster and singer Alexander Armstrong discuss the power of choral singing, especially from a young age as they both experienced, and the importance of nurturing the next generation of choral singers and composers.
---
EPISODE THREE: THE ARTIST TODAY
Grayson Perry and Hadrian Garrard | December 2019

Contemporary artist Grayson Perry and Founder and Director of Create London Hadrian Garrard discuss what it means to be an artist in today's world, and explain the impact that class, housing issues and inequalities have on creativity and the production of art.
---
EPISODE TWO: THE HOLY SPIRIT AND MACMILLAN'S FIFTH SYMPHONY
Cardinal Nicholas and Sir James MacMillan | July 2019

Composer Sir James MacMillan and Archbishop of Westminster Cardinal Vincent Nichols discuss the Holy Spirit, MacMillan's Fifth Symphony and the responsibility behind the artist's power of creation.
---
EPISODE ONE: PHILANTHROPY
John Studzinski CBE and Jan Dalley on philanthropy | July 2019

John Studzinski, Founder and Chairman of the Genesis Foundation and Jan Dalley, Arts Editor of the Financial Times initiate the arts podcast with a discussion on philanthropy and the meaning behind what Studzinski calls the "three Ts: time, treasure and talent".
---