Young Vic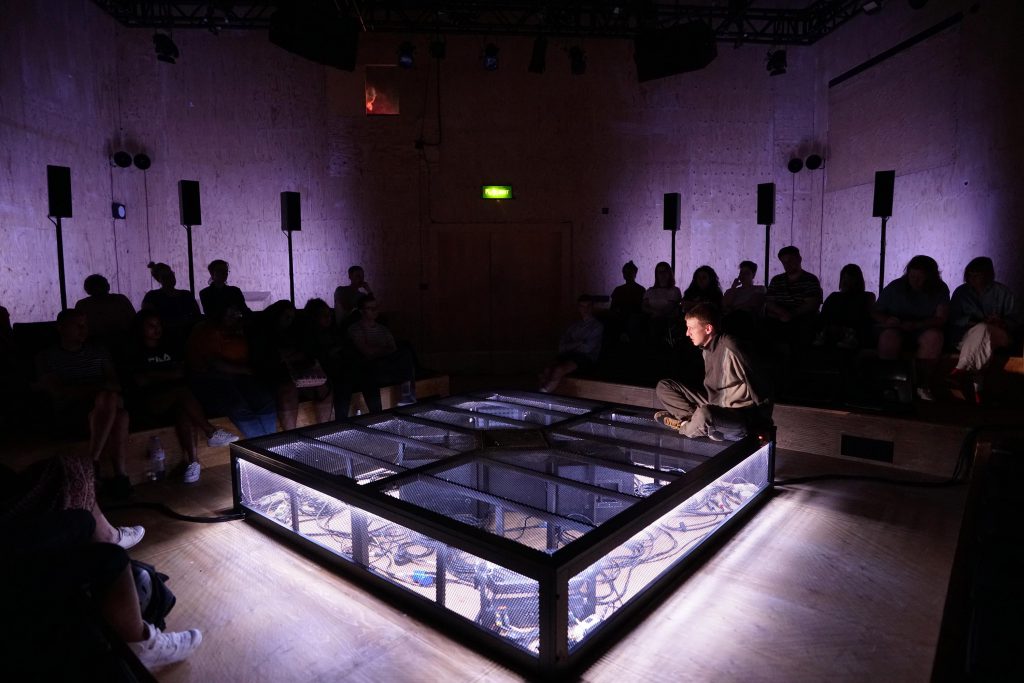 The Genesis Foundation has supported the Young Vic for more than fifteen years and currently funds the two-year Genesis Fellowship, the Genesis Directors Network and the Genesis Future Directors Awards. The Genesis Foundation's contribution has enabled the Young Vic to develop programmes which give young directors rounded, varied and multi-layered training.
The aim of the Genesis Foundation's support is that these directors should emerge from their experience at the Young Vic technically confident, grounded in their craft and able to realise their creative vision.
Genesis Future Directors Award
The Genesis Future Directors Award nurtures and develops emerging young directors by providing them with an invaluable opportunity to explore and develop their craft while creating their first, fully-resourced production at the Young Vic without the scrutiny of the media. Lekan Lewal and Catriona Shoobridge are the 2019 Genesis Future Directors Award winners. Shoobridge's production of Ivan and the Dogs by Hattie Naylor will run from 10 to 20 July 2019. Lawal's production of Wild East, by April de Angelis opened on 6 February 2019 and has completed its run.
Past recipients of Genesis Future Directors Awards include John Wilkinson (2018), Debbie Hannan (2018), Lucy J Skilbeck (2017), Nancy Medina (2017), Ola Ince (2016), Bryony Shanahan (2016), Rikki Henry (2015) Finn Beames (2014), Tinuke Craig (2014), Matthew Xia (2013) and Ben Kidd (2012).
Watch our short film to find out more about the Genesis Future Directors Award.
Genesis Fellowship
The Genesis Fellowship is a two-year grant that enables its recipient to work closely with Artistic Director Kwame Kwei-Armah as they continue to develop their craft as a theatre director. The current Genesis Fellow at the Young Vic is theatre director and playwright Nadia Latif. Nadia began her tenure in January 2018 and is the fifth Genesis Fellow to be supported and funded by the Genesis Foundation since 2013.
Discussing her Genesis Fellowship, Nadia said:
"My role as the Young Vic's Genesis Fellow has been amazing. I've loved meeting and working with so many talented aspiring directors and theatre makers. It's such an interesting time to be at the Young Vic and I can't wait for all that is still to come!"
Nadia will be directing the UK premiere of Jackie Sibblies Drury's Pulitzer Prize-winning play, Fairview at the Young Vic Theatre, from 28 Nov 2019 – 18 Jan 2020. She also led on the Young Vic's My England project – a series of short films, commissioned and produced by the Young Vic in 2019, celebrating playwrights from across regions of England who have written about what it means to be English.
Past Genesis Fellows include: Gbolahan Obisesan (Cuttin' It and Sus, 2016), Natalie Abrahami (Wings, Happy Days and Ah, Wilderness!, 2014), Carrie Cracknell (Macbeth co-directed with Lucy Guerin, 2012) and Joe Hill-Gibbins (A Midsummer Night's Dream, Measure for Measure, 2010).
Watch the below short film to find out more about the Genesis Fellowship.
Genesis Directors Network
Formed in 2004 as part of the Genesis Foundation's involvement with the Young Vic, the Genesis Directors Network is an online resource that has since become an invaluable forum for members of the Directors Programme to share their experiences and seek advice nationwide.
Directing can be lonely – particularly in the early stages of a career – and the network encourages a sense of community and peer support amongst its members. It is also an area where they can find information about current activities, opportunities and special ticket offers at the Young Vic.
Independent producers, theatre companies and writers often use the network as a way of finding directors for their projects. Theatres – including the Lyric Hammersmith, the Globe and Cheek by Jowl – circulate special offers for free or discounted tickets to shows and events. Annual opportunities such as bursaries, traineeships and masterclasses are also publicised through the network.
The Genesis Directors Network currently consists of over 1,000 members, with more people joining all the time.
Read more about Genesis Directors Network here.