Press Releases
The Sixteen and Harry Christophers CBE give world premiere of Sir James MacMillan's Symphony No.5 Le grand Inconnu at Edinburgh International Festival
27 March 2019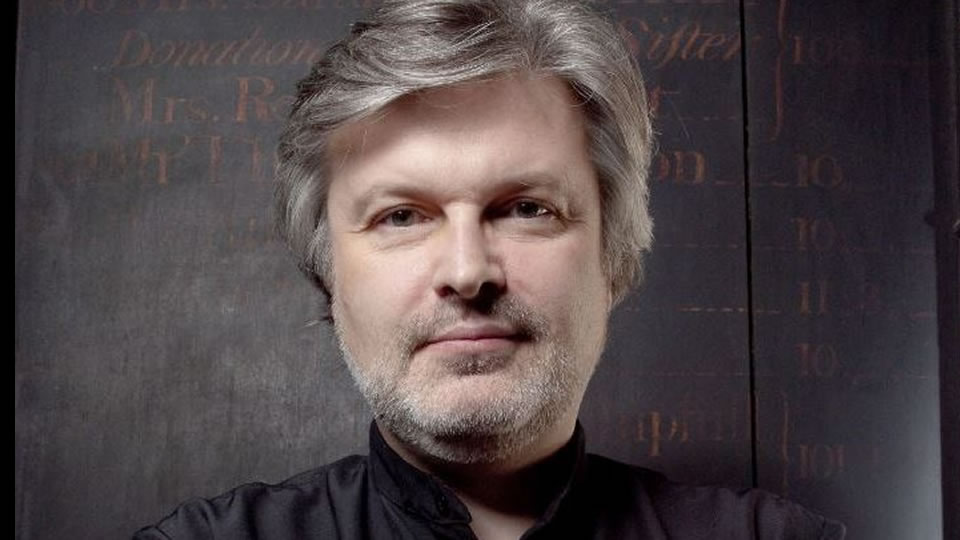 The Sixteen and Harry Christophers CBE, with Genesis Sixteen and the Scottish Chamber Orchestra, are to give the world premiere performance of Sir James MacMillan's Symphony No. 5 Le grand inconnu at the Edinburgh International Festival on Saturday 17 August 2019 at the Usher Hall. Commissioned by the Genesis Foundation for Christophers and the choir, the work is a meditation on the mystery of the Holy Spirit and has been written specifically for double choir. This collaboration is a continuation of The Sixteen's close relationship with both the award-winning composer and the Genesis Foundation. To complete the programme, MacMillan himself conducts his Symphony No.2 and the concert is being recorded for future broadcast on BBC Radio 3. Christophers and the choir also give the London premiere of Le grand inconnu on 14 October 2019 at the Barbican with Britten Sinfonia.
The performance forms part of the International Festival's celebration of MacMillan's 60th birthday and is also a part of The Sixteen's anniversary marking 40 years since a group of singers and instrumentalists brought together by Christophers gave their first concerts as The Sixteen.
Sir James MacMillan says: 'I feel very proud that a focus on my music is taking place in my home country and at a festival which I've loved since I was a teenager. The festival premiered my first opera Inés de Castro in 1996 and I'm delighted that my latest work, my fifth symphony, will be unveiled in Edinburgh this summer alongside other performances of my work. It is always a delight to be invited to write music for Harry Christophers and his incredible choristers, particularly when they are celebrating a milestone anniversary.'
Harry Christophers says: 'James' music has been a major part of The Sixteen's journey and it is so special that we get to give the world premiere of such an important work in his home country, in our 40th year. Without the constant and abundant support of the Genesis Foundation and John Studzinski, the contemporary choral repertoire would be much less vibrant so all our thanks to them for enabling this concert.'
John Studzinski CBE, Founder and Chairman of the Genesis Foundation says: "The Holy Spirit has rarely, and arguably never successfully, been fully explored in a symphony. As the metaphysical part of the Holy Trinity it represents a far bigger challenge for composers than a musical representation of an actual event such as the crucifixion. But few subjects deserve to be expressed in the uniquely powerful and emotional form of a symphony more than the Holy Spirit. The gift of the Holy Spirit is a form of initiation that brings us closer to God and the gift of his love. The Holy Spirit resides is us all once we accept God in our lives and is a deeply personal way of connecting to him and understanding his purpose for us. James MacMillan is the world's leading composer of sacred music whose commitment to God and to Christ his son has informed his compositions from the beginning of his career. Everyone at the Genesis Foundation is impatient to hear the results of his tackling this profound subject that's central to belief and to watch as its power is transmitted around the world in future performances and recordings."
As part of the International Festival's Queen's Hall Series, Christophers and the Choir also perform their programme A Golden Age, a selection of Italian and Portuguese Baroque music, on Thursday 15 August. Whilst in the city, they also perform at a mass on Sunday 18 August at St Mary's Catholic Cathedral, presided by Archbishop of Westminster Cardinal Vincent Nichols.
Two days before the world premiere, on Thursday 15 August, A New Heaven: Harry Christophers and The Sixteen, Choral Conversations with Sara Mohr-Pietsch is published by Faber & Faber. They embark on a series of conversations that look back over The Sixteen's four decades, and to the future. Accessible to everyone interested in classical music, from the professional to the amateur, each chapter is linked to a piece of music which prompted Christophers' and Mohr-Pietsch's discussions and they are all compiled on an accompanying disc. All but one can be found on The Sixteen's own award-winning label, CORO.