Brenda Emmanus to chair Genesis Conversation in partnership with the Mayor of London at City Hall on Monday 5 June 2023 
11 May 2023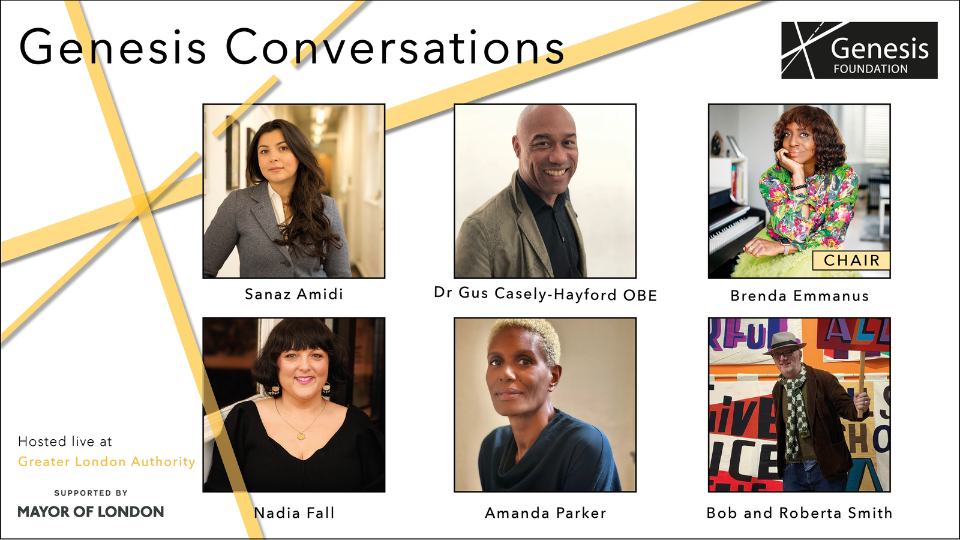 Panellists include Amanda Parker, Bob and Roberta Smith,  Dr Gus Casely-Hayford OBE, Nadia Fall and Sanaz Amidi
The Genesis Foundation and the Mayor of London  today announce the full line-up for the Genesis Conversation to take place at City Hall on Monday 5 June.  
Chaired by Brenda Emmanus OBE, the discussion will focus on People Make Places: the role of art and culture in placemaking and regeneration and will feature: Amanda Parker (Vice Chair, Mayor's Culture Leadership Board), East London based artist, Bob and Roberta Smith, Dr Gus Casely-Hayford OBE (Director, V&A East), Nadia Fall, (Artistic Director, Theatre Stratford East) and Sanaz Amidi (Chief Executive, Rosetta Arts).
 Art and artists have long been at the centre of the economic transformation of cities, with a well-established relationship between the arts and the commercial sector involved in urban regeneration. From the meanwhile use of buildings in post-industrial urban areas as studios, galleries, and sites for temporary art works, through to the permanent tenant status of flagship educational, gallery and museum institutions. Alongside the commissioning of public artworks within urban redevelopment and regeneration projects, artists often precede the revival of a neighbourhood. "Follow the Artists" is the long-standing mantra of property developers. 
East London has been a home for artists for decades. The Olympic legacy heralded the arrival of major national cultural organisations. How do we ensure vital community-led organisations are not dwarfed by them but included in the regeneration process? How can the newcomers learn from the existing cultural community? What is the role of those working in the cultural sector, developers and policy makers in working towards inclusive regeneration, rather than gentrification? What is the role of the arts in this process? 
Genesis Conversations is a series of free discussions, which gathers cultural leaders and rising talent in the arts to examine key issues in today's cultural world, hosted in partnership with the Barbican Centre, Bristol Old Vic and City Hall. These discussions are free live events with the option to watch the live-stream or a playback online. 
John Studzinski CBE, Founder and Chairman of the Genesis Foundation, said: "The Genesis Conversations are intended as free resources of the highest quality for artists to thrive in an increasingly tough industry. Providing healthy debates on key issues of our time, an exchange of ideas and practices from emerging artists as well as established, well-known figures, these talks aim to equip audiences with a new perspective and hopefully useful advice to take their practice, be it as an artist or a cultural leader, forward. The GLA play a pivotal role in the cultural revitalisation of London and Justine's team delivers a strategy showcasing the role of culture in transforming people and places."
Justine Simons OBE, Deputy Mayor for Culture and the Creative Industries, said: "Artists play a huge role in shaping our city and maintaining our identity as a world class creative capital. So it's vital that as London grows and develops, artists and creatives are at the heart of plans.  By bringing together artists, venues, government agencies and the commercial sector, we can ensure that development serves those it is intended to benefit. I'm delighted that City Hall is working with the Genesis Foundation to host one of these talks. It is another example of how, by working together, we can build a better London for everyone." 
The Genesis Conversation at the Greater London Authority is the third of the 2022/23 season: the Barbican Genesis Conversation, Networks, chaired by Will Gompertz and the Bristol Old Vic Genesis Conversation, Arts in a Time of Crisis, chaired by Tom Morris can be watched on the Genesis Foundation's YouTube channel.
The Genesis Foundation previously sponsored six Cultural Conversations in 2020 and 2021, hosted by Sir William Russell at the Mansion House when he was Lord Mayor of the City of London.
Originally conceived as live events, they continued throughout the Covid-19 crisis and were held online enabling audience participation via chat and video. The panel discussions gathered leaders and artists who included Sir Nicholas Serota, Kwame Kwei-Armah, Sharon Ament, Ayanna Witter-Johnson, Lemn Sissay, Dame Julia Payton-Jones CBE and many more. Leading arts journalists including Kirsty Lang and Farah Nayeri chaired debates about Cultural Technology and Innovation, Philanthropy, Youth and Access, the Economic impact of the Creative industries.
Register to attend People Make Places (live stream registration also available).