Taio Lawson Announced as 2023-24 Genesis Fellow / Young Vic Associate Director
12 April 2023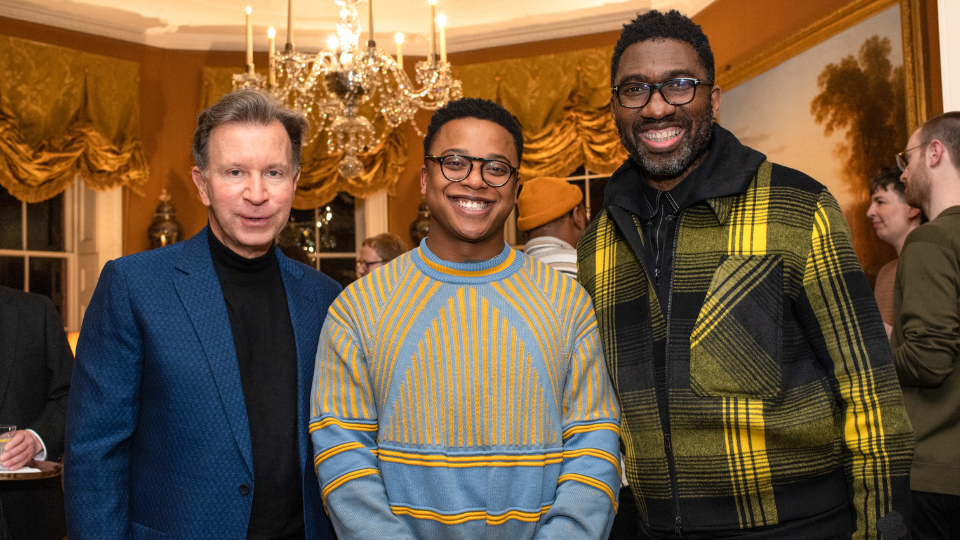 (John Studzinski, Taio Lawson and Kwame Kwei-Armah. CR. Philippa Gedge)
The Young Vic Theatre is delighted to announce director Taio Lawson as the 2023 Genesis Fellow / Associate Director, a two-year programme for experienced directors and theatre-makers to develop their craft in directing, programming and artistic planning, made possible with support from the Genesis Foundation.
Taio Lawson will be based within the Creators Program department and will play an integral role in the development and delivery of the Young Vic's artist development program. His previous credits at the Young Vic include the Boris Karloff Assistant Director on Sizwe Banzi is Dead, Jerwood Assistant Director on Life of Galileo, and Director of Home 20. Other credits include Resident Director on Hamilton (Victoria Palace); Associate Director at Kiln Theatre where he directed NW Trilogy; and debbie tucker green's hang at Sheffield Theatres where he was RTYDS 18-Month Resident Director.
The Young Vic's longstanding partner, the Genesis Foundation, has provided leadership support for the Genesis Fellow for 10 years investing in exceptional directors, their strategic insight and creative growth. Taio Lawson will take over the role this summer from Jennifer Tang who concludes her tenure with Further than the Furthest Thing currently playing in the Main House until 29 April. Previous Genesis Fellows include Nadia Latif, Gbolahan Obisesan, Natalie Abrahami, Carrie Cracknell and Joe Hill-Gibbins.
Taio Lawson, Genesis Fellow / Associate Director, said: "The Young Vic is a beacon in the industry as a venue for excellent, boundary-pushing art, as well as a training ground for the next generation of boundary-pushing artists. I saw my first play at the Young Vic on a school trip in 2000. Being able to make theatre in the same place I fell in love with the art form is a personal full circle moment. It's also exciting to see the evolution of the Directors Program into the Creators Program, which is now supporting multi- and anti-disciplinary artists to hone their craft. Along with curating workshops for the Creators Program, I want to help make this theatre feel like a home to those artists, in the same way it has for me over the years. It is an honour to join the team here. I hope I can be of service."
John Studzinski, Founder and Chairman of the Genesis Foundation, said:"Supporting creatives in the early stages of their professional lives is central to our work. The Genesis Fellowship has proved to be one of the finest training opportunities in the UK for talented young directors thanks to the quality of the Young Vic's artistic leadership. I am delighted to welcome Taio, an already experienced director, into the Genesis Fellowship family and have no doubt he will gain immensely from being in a creative environment that gives both freedom and firm professional support. No matter how far you are in your career as a director, you never stop benefitting from feedback from someone you respect and trust. Directors take on the considerable public challenge of bringing an entire production to life, and they need mentors and networks that are up to that challenge."
Kwame Kwei-Armah, Young Vic Artistic Director, said: "We're delighted to welcome Taio Lawson as our Genesis Fellow / Associate Director. It's clear he is an incredibly talented artist and we are proud that the Young Vic has played an active part in his career to date. We look forward to continuing this journey with him. Together with our longstanding partner, the Genesis Foundation, we are committed to supporting and investing in exceptional artists and their creative growth through the vital work of the Young Vic Creators Program."
The Young Vic is renowned for the Creators Program led by Sue Emmas, that grew from the Directors Program, and has been providing an extensive program of learning activities, traineeships, and opportunities to make work for artists for more than 20 years. Since 2003, the Genesis Foundation's partnership has been the backbone of artist development at the Young Vic – forging community through the Genesis Network, and igniting careers through invaluable training opportunities such as the Genesis Future Directors Award and Genesis Fellowship.
Find out more about the Genesis Foundation's partnership with the Young Vic