No. 5 | Facing (virtual) reality
23 June 2021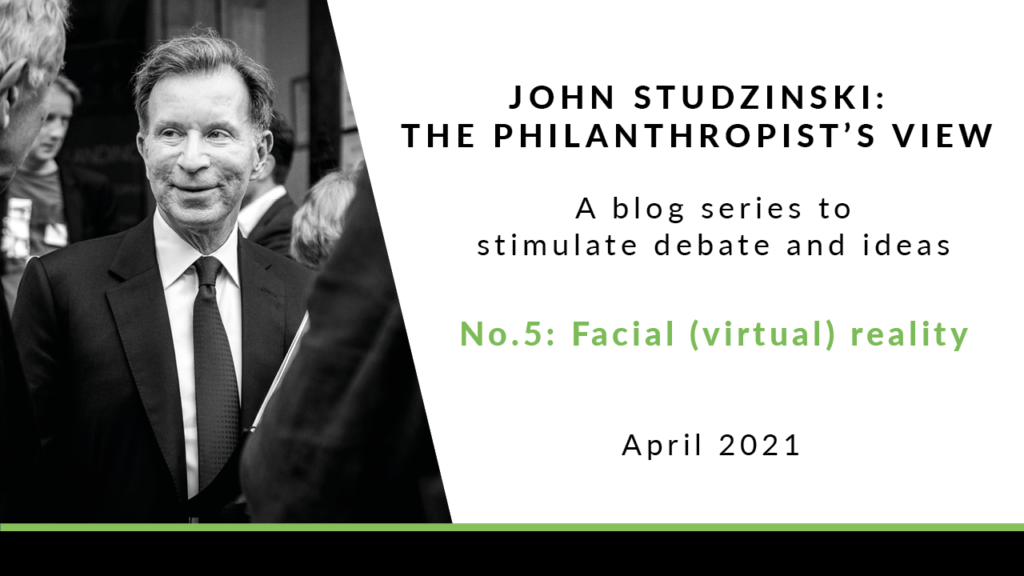 The pandemic has catapulted the world into the digital future. Last autumn, a report from McKinsey revealed that businesses had leaped forward as much as seven years in their adoption of technology. Where businesses go, the rest of the world follows. Like characters in a 21st century fable, we are advancing in seven-league digital boots.
As I wrote in my previous blog, after a year of getting our cultural fixes online, we're all hungry for the live experience of art – there's still nothing like it. But equally, in our accelerated world, the validity of a digitally mediated experience cannot be denied or ignored.
Digital experiences 'in the round' remain work in progress. Virtual reality techniques, simulating and supplementing our senses, offer exciting possibilities for the future. Even the Royal Opera House is now offering a "15-minute hyper reality opera experience", while Warner Music Group and the Brighton Festival are among the partners in a forthcoming 5G Festival, built on public funding. It will offer real and virtual venues "where artists and audiences can gather and connect both in person and online". 5G technology will be employed to "communicate the 'live-ness' of an experience wherever you are". This all opens the way to the shocking – though positive – changes that the 'virtual world' is sure to undergo in the next few years.
Whether artists are relying for their survival on public sources or philanthropy – or simply on paying customers – they cannot afford to ignore the creative possibilities of digital technology. In a tough world, funders will expect them to be nimble, to move with the times, and above all to give audiences what they want – and in the way they want it.
The digital imperative is now very much part of the Genesis Foundation's thinking.
Following the example set three years ago at the Sistine Chapel with Sir James MacMillan's Stabat mater, this month's concert by The Sixteen is being streamed from Farm Street Church in London by Classic FM.
Meanwhile, three-quarters of the 41 creative projects that recently received grants from our Kickstart Fund will take shape either partially or completely online. There is even a virtual reality exhibition in the mix. These are just the kind of projects to focus our attention on the new realities in the arts, and the truths of the wider world that they reflect, interpret and enhance.
Read other posts in the John Studzinski: The Philanthopist's View series