Royal Court Theatre
John Studzinski, and later the Genesis Foundation supported the Royal Court Theatre's International Playwrights' programme for over 20 years. This partnership enabled over 300 writers from more than 70 countries, in over 40 languages, to have their work read, developed and produced by the Royal Court Theatre's International team, headed by the late Elyse Dodgson.
Elyse created the International Programme 20 years ago with the support of Genesis Foundation Founder & Chairman, John Studzinski, who came to watch some plays that Elyse was presenting. She recounted that the first International season, featuring three European writers was "a complete disaster" and played to an almost empty auditorium. "But John loved it. He got it decades earlier than everyone else." The International department is now central to the Royal Court Theatre.
With the support of the Genesis Foundation, the Royal Court Theatre enjoyed a creative dialogue with hundreds of playwrights and theatre makers all over the world. This included workshops in Ukraine, Mexico, Nigeria, Russia and across the Middle East, in addition to long term relationships with playwrights in Brazil, France, Germany, India, Romania, Spain, Uganda, Chile, South Africa, Zimbabwe and many other countries. The Royal Court also staged this work, and since 1997 has produced dozens of full productions, staged readings and one-off events.
A visualisation of International Playwrights: A Genesis Foundation Project's activity from 2016 – 2018: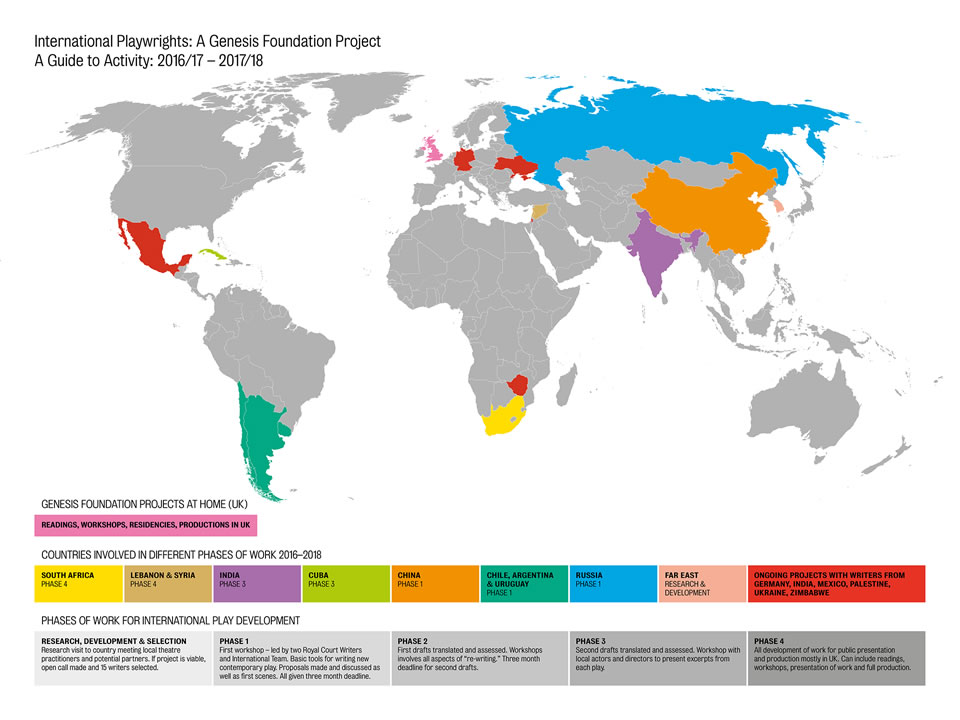 For more information on the Royal Court Theatre's international work, click here.
The Royal Court's international work with the Genesis Foundation included:
International Playwriting Residencies
Up to ten playwrights invited to the Royal Court each year for up to four weeks to develop a new play.

International Play Development
On-going programmes focused on new writing in specific countries through partnerships with theatres in those countries.

International Playwrights – Production / Co-production
Seasons of international work and individual productions of specially commissioned international plays in translation, including associated performances, public readings and events that emerged from the programme's projects.