Exhibition
26 January – 31 March 2019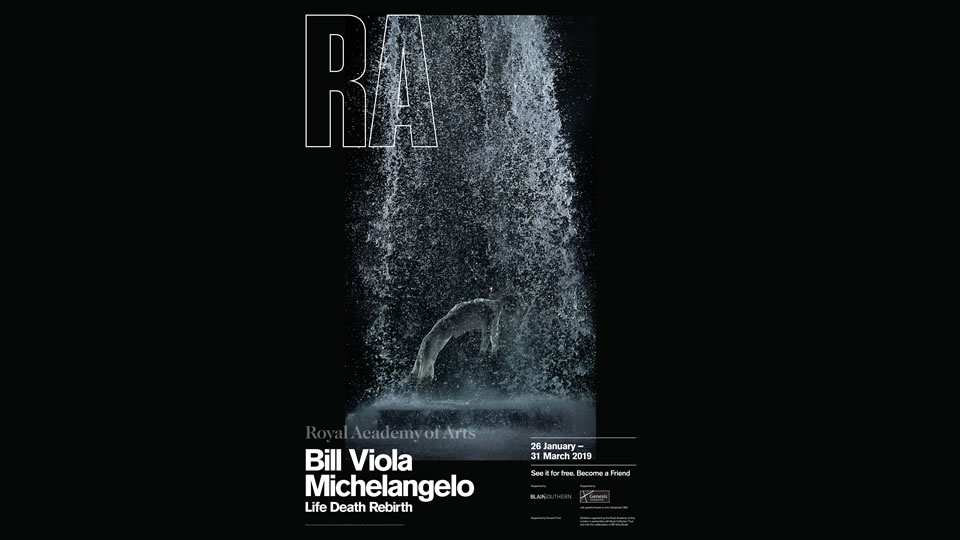 Bill Viola / Michelangelo: Life, Death, Rebirth at the Royal Academy of Arts
The Genesis Foundation sponsored the Royal Academy of Arts' major exhibition, Bill Viola / Michelangelo: Life, Death, Rebirth, which ran from 26 January – 31 March 2019. The exhibition paired installations by pioneering video artist Bill Viola with rarely-seen drawings by Michelangelo, exploring how these artists shared a deep preoccupation with the nature of human experience and existence, despite working five centuries apart and in radically different media. This was the first time that these artists' acclaimed works had been seen together.
At the exhibition's opening, John Studzinski, Founder & Chairman of the Genesis Foundation said:
"Bill Viola's art enables us to contrast the material and metaphysical worlds. Experiencing his work gives us greater insight into our own faith. Presenting Viola's work with Michelangelo's will create a dialogue between them on their mutual preoccupation with the presence of the divine in our lives.
"In presenting Viola / Michelangelo, the Royal Academy shares with the Genesis Foundation a commitment to attracting new audiences to art that contemplates the divine.
"As we will experience with Bill Viola / Michelangelo, the fusing of the contemporary with the timeless creates something uniquely powerful."
Andrea Tarsia, Head of Exhibitions at the Royal Academy said:
"We hope this exhibition will offer our audiences an opportunity to consider ongoing traditions of spiritual and affective art, by bringing together two artists who have made this such a cornerstone of their very conception of what art is. Despite the difference in time, place and medium both Viola and Michelangelo offer deeply moving visions of the nature of existence, and of the relation between the material and the spiritual."
Bill Viola / Michelangelo was listed as Forbes' no. 1 exhibition in its list of '7 Unmissable London Art Exhibitions for Spring 2019', read here.
The Evening Standard referred to the exhibition as "powerfully effective" in a  review, read here.
Coinciding with the exhibition, BBC One released a documentary entitled Bill Viola: The Road to St Paul's on 4 February 2019, charting Bill Viola's career over 12 years and following him as he created a permanent video installation for St Paul's Cathedral. Watch here.
Miserere
On 27 February 2019, Eamonn Dougan and The Sixteen performed a concert entitled 'Miserere', inspired by the Bill Viola / Michelangelo exhibition, in the Benjamin West Lecture Theatre at the Royal Academy. The programme coupled music from the Sistine Chapel with musical responses from contemporary composers and included the world premiere of Angus McPhee's Panem Nostrum… Ave Maria, commissioned by the Genesis Foundation. This piece took its influence from a setting of the same text by composer Josquin des Prez.
McPhee was part of the inaugural Genesis Sixteen in 2011, a free young artists' scheme run by The Sixteen with support from the Genesis Foundation, which aims to nurture the next generation of talented choral singers. Read more on McPhee here.
In a  review, Classical Source called the concert "an evening of contemplative and joyous music-making", read here.