Exhibition
2 November 2017 – 8 April 2018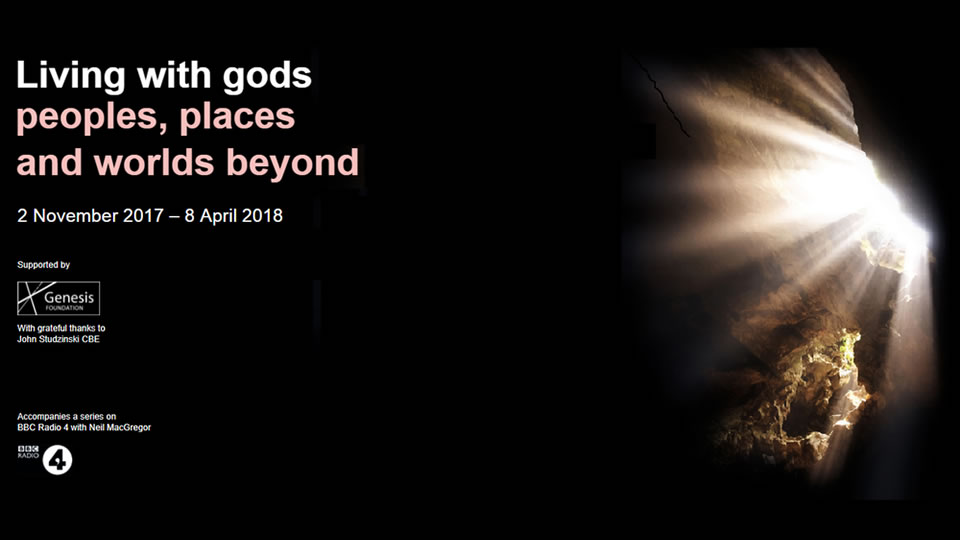 Living with gods: peoples, places and worlds beyond at the British Museum
The Genesis Foundation was the sole sponsor of a major new exhibition Living with Gods: peoples, places and worlds beyond at the British Museum, running from 2 November 2017 – 8 April 2018, which examined the practice and expression of religious beliefs in the lives of individuals and communities across the world.
Discussing the Genesis Foundation's patronage of the exhibition, Founder & Chairman John Studzinski said:
"Faith is an integral part of my life, which means that I am conscious of the divine in all sorts of circumstances, in sacred and secular spaces, in nature and in man-made objects.
"We're living in a period where people are searching for meaning and substance in their lives. This exhibition is a welcome opportunity to shed light on faith in these challenging times and to remind people that there's a deeper part of themselves that they can access if they are patient and take a chance to trust that place within them.
"As soon as we began to discuss this exhibition, I was compelled by the idea of uniting in one place objects that explore religious practices across the world and throughout history. I am looking forward to witnessing people's responses, both spiritual and emotional, as they make a connection to the divine at the British Museum. When we share an experience of this kind, we remember that we are more united than we often acknowledge, and I hope that this exhibition will remind us of that."
The Genesis Foundation is a long-standing patron of the British Museum, with Living with gods: peoples, places and worlds beyond being the latest in a long-standing collaboration between the Genesis Foundation, the British Museum and its former Director Neil MacGregor.
The exhibition was part of a collaborative project between the British Museum, the BBC and Penguin Books. It complemented the Radio 4 series of 30 daily programmes over six weeks presented by Neil MacGregor, who said:
"The great thing about John Studzinski is that he's not just a generous friend and patron, but that he's a loyal and along-term friend and patron. For institutions, that changes the world. John Studzinski has helped the British Museum in different ways for over 20 years, and in all kinds of ways: making important acquisitions, and with exhibitions. He's been a friend that the Museum can rely on: that's the best kind of friend, the best kind of patron."
Neil MacGregor was nominated for Living With The Gods in the 2018 Broadcasting Press Guild (BPG) Awards.
To read press coverage of this exhibition, click here.
Continuing its programme of commissioning sacred music, the Genesis Foundation premiered Hallowed, by Stephen Hough, at the British Museum on Tuesday 13 March in a concert celebrating the exhibition. Presented by the Genesis Foundation, the programme of sacred music was performed by its long-term partners Harry Christophers and The Sixteen in front of an invited audience of 200 guests.