£1million Genesis Kickstart Fund announces final round of grants
28 March 2022
Total of 95 projects supporting more than 1,000 freelance creatives in the UK
In the final phase of its rollout, the Genesis Foundation has awarded a further £360,000 in grants through its Genesis Kickstart Fund to 36 arts projects run by creative freelancers throughout the UK. Since it started its distributions last year, a total of 95 future-facing projects have benefitted from the £1million fund, which was established during the pandemic to enable outstanding freelance talent to thrive in paid work. The first phase of grants, announced in 2021 and totalling £640,000, marked the Genesis Foundation's 20th anniversary.
The projects, running across the UK and involving more than 1,000 freelance creative professionals, embrace the visual, performing, digital and screen arts. They were nominated and selected by an advisory council of artists and cultural leaders including Barbara Broccoli, Farooq Chaudhry, Rupert Goold, Kwame Kwei-Armah, Kathryn McDowell and Rufus Norris. While representing a diversity of genres, subject matter, social causes and objectives, the projects are all marked out by their focus on quality. Their themes include climate change, inclusivity, migration, mental health, queer activism and ableism.
John Studzinski, Founder & Chairman of the Genesis Foundation, said:
"The Genesis Kickstart Fund grew out of our response to the pandemic, but we have always been looking to the longer term. Beyond enabling paid work on worthwhile, innovative projects, the grants are about nurturing resourcefulness and resilience – and developing ideas and momentum in a dramatically changed environment.
"As we finally emerge from two years of Covid-19, our lives are now being shaken by a war. The creative community faces the prospect of a new and precarious world order and punishing economic pressures. The Kickstart Fund clearly continues to have an important job to do. It has already mitigated society's risk of losing outstanding creative talent through lack of opportunity, and it will continue to encourage some of today's most inspiring artists to create the cultural memory of tomorrow."
In addition to the £10,000 grant (£20,000 for the freelancers in projects led by Genesis partners) the freelancers involved will gain access to Genesis Connect, a network to enable artists and producers to meet, foster new collaborations and benefit from mentoring opportunities. The grants awarded apply to projects running for a maximum of two years and must be completed by March 2023. On completion, the impact of all projects will be assessed according to the following criteria: quality, innovation, value for money and benefit to society.
Rupert Goold, Artistic Director of the Almeida Theatre, says:
"It's been a privilege to be on the advisory council for the Genesis Kickstarter Fund and inspiring to be part of the process. It's an amazing range of recipients being supported from across the cultural landscape and crucially these projects will provide opportunities for hundreds of freelancers. Enormous credit must go to John Studzinski for his commitment to supporting artists as the sector continues to get back up and running."

Anna Coombs, Artistic Director of Tangle, says:
"Winning a Genesis Kickstart Fund grant will afford Tangle, an award-winning touring theatre company championing African and Caribbean artistic excellence, a vital platform to expand and develop AMPLIFY over a two-year period. This important project, which addresses a chronic and historic lack of opportunity for Global Majority theatre makers to progress careers in offstage roles, will engage more than 30 freelance professionals and multiple national partners to pioneer genuine change in our sector."
The 36 projects receiving grants in the final phase of awards are: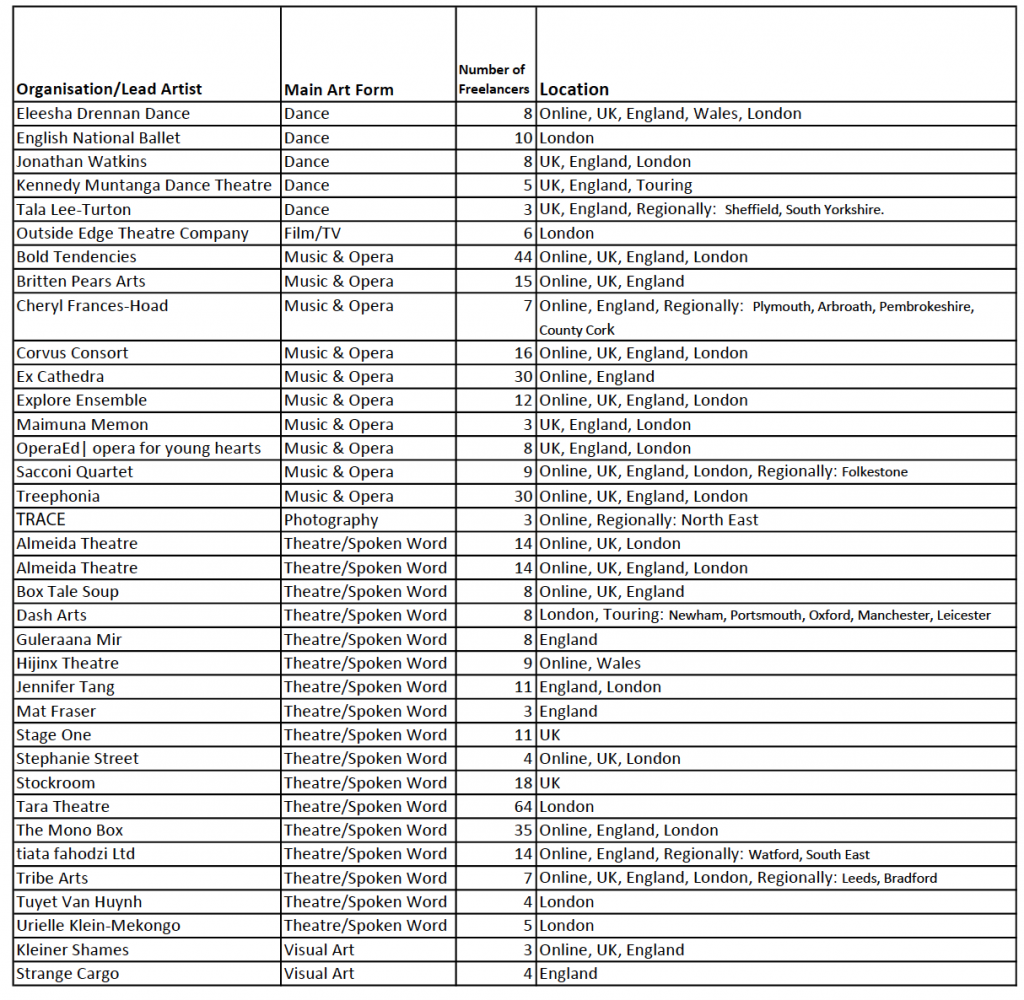 View all the Genesis Kickstart Fund projects