Emerging Writers Selected For Genesis Jewish Book Week Programme 
13 July 2022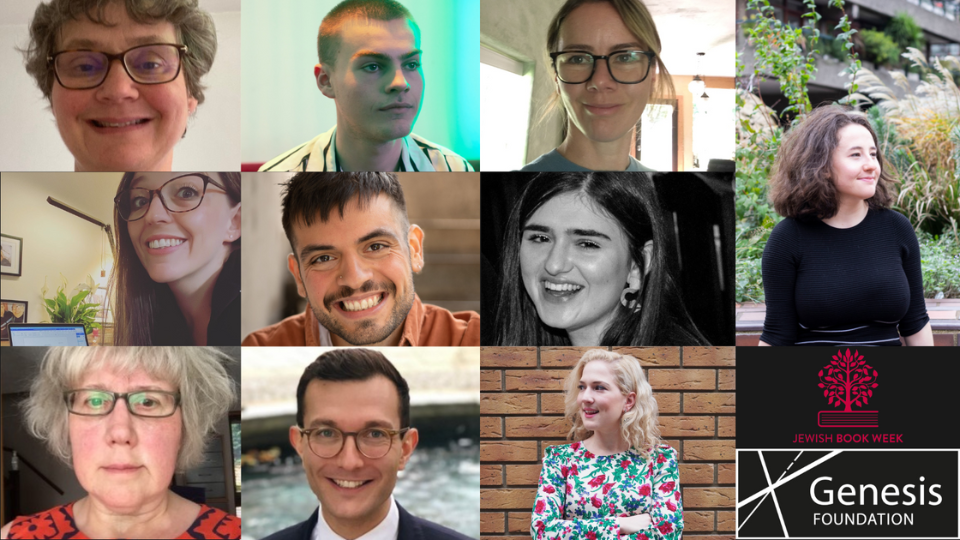 A study of dirty money in the art world, poems on the female body in pain and a contemporary update of Thomas Hardy are among the projects that will be explored by the 2022/23 cohort of the Genesis Jewish Book Week Emerging Writers' Programme.
After a successful inaugural programme last year, culminating in a full-house event at the 70th anniversary Jewish Book Week in March, the 10 writers for this year have now been selected. Drawn from across the UK, other projects will include the story of the four young legal graduates who took on the establishment to allow women to become lawyers in the early 20th Century, a short collection as told by queer British Jews of Middle Eastern and North African descent and a novel exploring issues of identity, sisterhood and influencer culture.
The emerging writers will receive mentorship from established authors, bursaries of up to £1,500, peer support and specialist seminars. In the category of non-fiction Caroline Gardiner, Tilly Rubens and Aaron Taylorthe mentors will be Bidisha, Anne Sebbaand Dominic Selwood respectively; in poetry Oakley Flanagan, Rachel Lewis, Amelia Loulli and Natalie Perman will be mentored by Wayne Holloway-Smith, Ruth Padel, Clare Pollard and Jack Underwood; and for fiction Amy Abrahams, Helen Bain and Leeor Ohayon will work with Charlotte Mendelson, Ashley Hickson-Lovence and Philip Hensher.
Non-fiction mentor Bidisha, said of her mentee Caroline Gardiner's Slow: "A very original study of two things which dovetail together beautifully: first, prejudice, fear and loathing of those who are divergent or differently abled, terror of loss of ability or loss of effectiveness within capitalism; and yet at the same time the concept of slowness may be exactly what saves society and the planet. Slow living, slow thinking, slower development and exploitation of resources. It's an exceptionally clever idea and I can really see how Caroline could develop both her argument and her ideas and experiences into an idiosyncratic, powerful and extremely original work."
John Studzinski CBE, Founder and Chairman of the Genesis Foundation, said:"The Genesis Foundation is pleased to partner with Jewish Book Week for a second year on the Genesis Emerging Writers programme. The topics tackled by this new cohort of emerging writers are promising in their relevance, diversity and complexity. The mentor/mentee relationship is vital to an artist's development and Jewish Book Week have selected outstanding mentors to guide this new group of writers in their work. This project goes to the heart of what we have been doing for 20 years: supporting and nurturing creative and emerging talent."
The programme will run over the next 10 months including a panel discussion at Jewish Book Week 2023 at Kings Place next March.