Genesis Sixteen alumni perform at the Coronation of His Majesty the King 
16 May 2023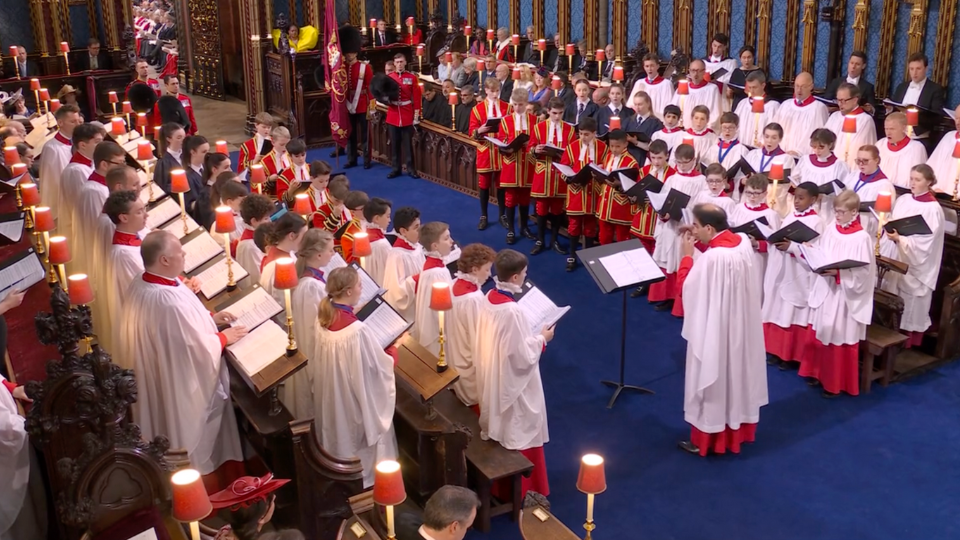 (Andrew Nethsinga, The Choir of Westminster Abbey His Majesty's Chapel Royal & St James's Palace Singers)
Nine alumni from Genesis Sixteen, the Genesis Foundation and The Sixteen's choral music programme, performed in His Majesty the King's Coronation service on 6 May.
In the Coronation's pre-service, seven alumni performed with the Monteverdi Choir, conducted by Sir John Eliot Gardiner. Samantha Cobb (Cohort 5, Soprano), Jack Comerford (Cohort 4, Bass), Hilary Cronin (Cohort 5, Soprano), Jonathan Hanley (Cohort 6, Tenor), Charlotte La Thrope (Cohort 2, Soprano), Timothy Morgan (Cohort 3, Countertenor) and Daisy Walford (Cohort 2, Soprano) performed three pieces by Bach with the choir alongside the English Baroque Soloists.
Two alumni sang with choirs in the main service under the direction of Andrew Nethsingha. Tristram Cooke (Cohort 5, Countertenor) performed with The Choir of Westminster Abbey, whilst Alexander Hume (Cohort 8, Tenor) sang with His Majesty's Chapel Royal, St James's Palace Singers.
The two choirs were joined by girl choristers from the Chapel Choir of Methodist College, Belfast, and Truro Cathedral Choir. Their performances included works by some of the Genesis Foundation's earliest commissioned composers: Roxanna Panufnik's 'Coronation Sanctus', Roderick Williams's 'Be Thou my Vision – Triptych for Orchestra' and Tarik O'Regan's 'Agnus Dei'.
Supported by the Genesis Foundation, Genesis Sixteen is The Sixteen's free young artists' scheme for 18-23-year-olds which aims to nurture the next generation of talented ensemble singers. Now entering its 13th year, Genesis Sixteen is the UK's first ever fully funded programme of its kind. Participants, of which there are now more than 250, have gone on to perform, record and tour with professional groups, including The Sixteen.
Watch the Coronation pre-service or listen on BBC Sounds
Find out more about the Genesis Sixteen programme