2023-24 Genesis Jewish Book Week Emerging Writers
24 July 2023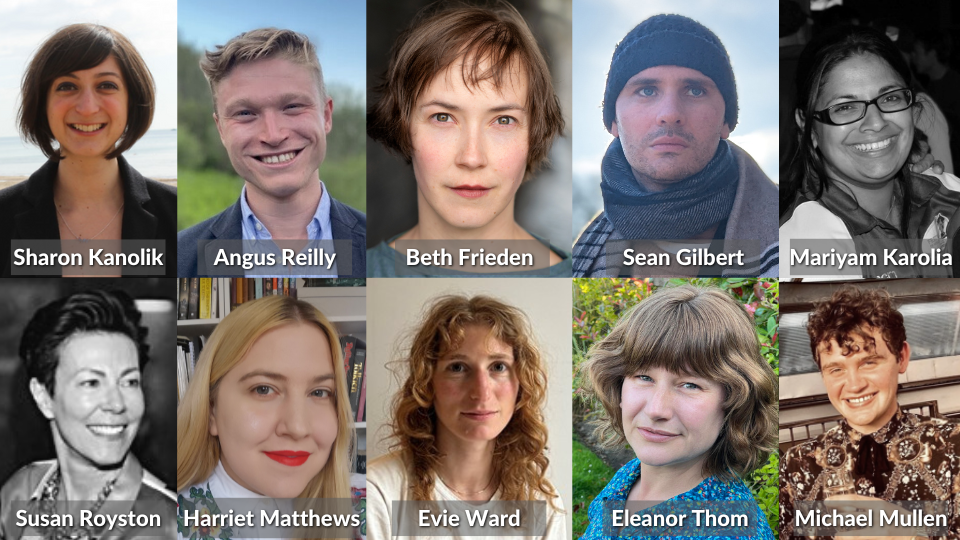 A female-led retelling of Ivanhoe, poems on the queer Scottish experience and an investigation of Henry Kissinger's wartime experiences are among the projects selected for the third annual Genesis Jewish Book Week Emerging Writers Programme.
Covering fiction, non-fiction and poetry, the 10 selected writers will receive bursaries, mentoring from established writers, seminars and peer support over the next 10 months, culminating in a special event at Kings Place, London, for Jewish Book Week 2024.
The emerging writers in the fiction category are: Bradford-based Mariyam Karolia with short stories and poems on childlessness; Susan Royston with The House in Mile End, a novel inspired by a box of 1920s love letters; Sean Gilbert with I'll Be The Monster, a crime story that interrogates the reader's attraction to that genre; and Harriet Matthews with Sir Walter Scott's Ivanhoe from the viewpoint of Rebecca, also serving as an examination of Anglo-Jewish history. Their mentors will be million-selling novelist Julie Cohen, Ondaatje Prize winner Ruth Gilligan, thriller writer Adam Lebor and Booker nominee Sophie Mackintosh.
The non-fiction mentees are: Eleanor Thom, who will reflect on the concept of interdependence from her point of view as a mother and carer; Angus Reilly on Kissinger as a refugee, soldier, concentration camp liberator and intelligence officer in the Second World War; and Sharon Kanolik on multicultural identities and growing up Jewish in rural Dorset. Their mentors will be comedian and bestseller Viv Groskop, biographer and journalist Keiron Pim and historian Helen Fry.
In the poetry strand the selected writers are: Glasgow-based Beth Frieden, who writes in English and Gaelic; Evie Ward with a work of poetry and auto-fiction about what it means to write now; and Michael Mullen, delving into his experience of growing up queer, working class and Scottish. Their mentors will be writer and International Booker-shortlisted translator Jen Calleja, Robert Louis Stevenson Fellowship winner Michael Pedersen and novelist and poet Sarah Blake.
Cohen, author of Bad Men and Spirited, said: "At a time when funding and support for the arts is shrinking, programmes like this are even more valuable to help the next generation of writers. I love helping new writers and I always feel that I learn a lot myself."
Fellow mentor Blake, whose poetry and novels include In Springtime and Naamah, added: "Since I read Evie Ward's work, I haven't been able to get one of her lines out of my head: 'I sat with the mould over my head, it was mine. I inherited it.' I'm so excited to hear what her goals are and help her to reach them in any way I can."
John Studzinski, Founder and Chairman of the Genesis Foundation, said: "We are delighted to be supporting Jewish Book Week's Emerging Writers Programme. Now in its third year, this Genesis programme is going from strength to strength. The quality and diversity of writers and mentors, of themes tackled and genres explored is impressive and many talented writers have already come through the programme. It also thrives on developing strong mentor-mentee relationships, which is at the centre of the Genesis Foundation's work. We look forward to seeing this new cohort develop, with the support and commitment of their superb mentors and the excellent team at Jewish Book Week."
Emerging writers from the two previous years of the programme have recently achieved a range of milestones. Linda Ford's debut collection Lucent was published in the autumn and Arts Council England (ACE) is funding research and development for a new poetry sequence. Philip Glassborow's musical One Kid, Two Farthings, based on Wolf Mankowitz's A Kid For Two Farthings, is to be performed in conjunction with the Museum of London's next major exhibition Fashion City. Helen Bain was shortlisted for the Lucy Cavendish Fiction Prize 2023. Fiona Monahan has completed her book, including a foreword by her mentor, biographer Caroline Moorehead. Madeleine Dunnigan is now represented by Emma Paterson at Aitken Alexander and a draft of her book was a finalist for the Mslexia First Novel Award 2023. Oakley Flanagan's G&T was published by Out-Spoken Press this summer. Aaaron Taylor won a 2023 Churchill Fellowship for his research and is now represented by Natasha Fairweather at RCW. And Cambridge University Press is publishing E.K. Myerson's The Desire for "Syria" in Medieval England.