Genesis Kickstart Fund project activity | May – Jun
8 June 2023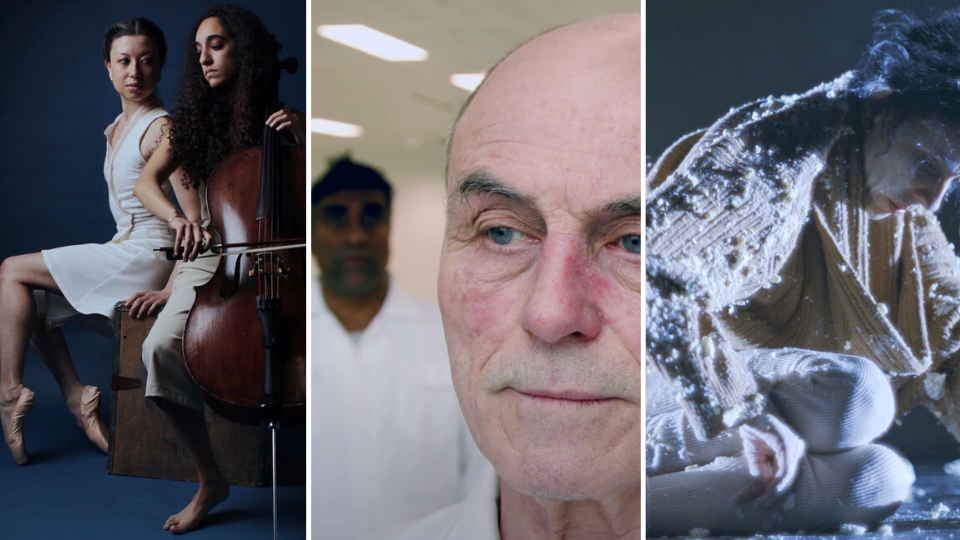 Images: Here Lies (Tala Lee-Turton, Photo: Zavod Studio), Recovery in Vision (Outside Edge Theatre Company), Orbits (Birds of Paradise Theatre Company)
Dance
Orbits | Birds of Paradise Theatre Company
Birds of Paradise Theatre Company premiered new film Orbits at the Fruitmarket Gallery in Edinburgh last month.
Featuring Portuguese dancer Diana Niepce, the piece explores the experience of losing things close to, and how this change affects our experience of ourselves.
Birds of Paradise Theatre Company will be announcing future screening dates of the film soon.
Here Lies | Tala Lee-Turton
The next iteration of Here Lies, a 10-minute ballet/ physical theatre duet between a dancer and a cellist, will take place as part of a dance-based triple bill this Autumn.
Produced and performed by dancer and creative producer Tala Lee-Turton, Here Lies is a collaboration with Sheffield General Cemetery, exploring the unrecorded lives of women buried in the cemetery. Tala's creative team features choreographer Krystal S. Lowe and cellist Roxanna Albayati.
The piece will form Act II of the triple bill, titled parler femme, which is themed around celebrating innovative and inspiring stories about women.
An open dress rehearsal takes place at Production Park, South Kirkby on 6 November, before premiering at Stanley & Audrey Burton Theatre, Leeds on 9 November. The piece will then move to Sheffield Theatres on 11 November, and finally The Civic, Barnsley on 25 April 2024.
---
Visual Arts 
Acme Alternative Pathway Awards | Acme
An exhibition of works by three Acme Alternative Pathway Awards recipients is taking place at Unit 1 Gallery in London from 15-24 June.
Supported by the Genesis Kickstart Fund, the Acme Alternative Pathway Awards aim to support artists that are within their first five years of practice and are from groups currently underrepresented in the arts.
Curated by artist Shamica Ruddock, Time, Labour, Process will showcase works by Dita Hashi, Elora Kadir and Natasha Muluswela.
Find out more and book tickets for Time, Labour, Process
---
Theatre
Recovery in Vision | Outside Edge Theatre Company
Two short films have been released as part of Recovery in Vision, a project run by Outside Edge Theatre Company which supports 12 participants affected by addiction in writing, producing and editing their own short film about recovery.
Made in collaboration with TEA films, the two films titled The Choice and The Hurricane are available to watch on Outside Edge Theatre Company's YouTube channel.